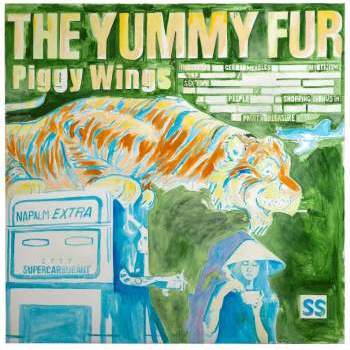 Rock Action
YUMMY FUR - Piggy Wings LP
One of 2019's finest reissues.
Highly recommended. 

Think cartoon-ish The Fall meets The Minutemen / Country Teasers / Guinea Worms - and more essential than you could imagine. 

Collects the finest 7" and album tracks from this '90s act that featured members who would go on to form Franz Ferdinand! Odd and elaborate guitar riffs combined with wry, sardonic humour and sarcastic, clever lyrics: 
""He's a big cowboy he's a real life Texan / He pack a twelve gauge and he wears a Stetson / But he's got moustache, he goes to night club / He dance with an Indian one hundred and eighty bpm"

You may have heard us bang on about the downer punk storytelling of Columbus, OH's GUINEA WORMS, well The Yummy Fur were the single greatest influence on G.W's Will Foster. Ask me sometime about Will Foster introducing me to Glasgow's THE YUMMY FUR (not to be confused with Perth act of the same name). 

Just buy it and thank us later...




---
Share this Product
---
More from this collection