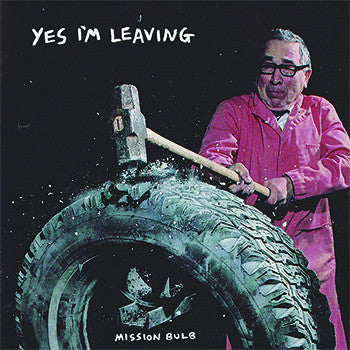 Homeless
YES I'M LEAVING - Mission Bulb LP
Includes d/l code.
Limited to 400 copies.
Highly recommended. 

Hearing this three-piece noise rock juggernaut from Sydney for the first time is like walking blindly around a corner and being laid out on your arse by blunt force trauma to the head. From the first blood-curdling scream and blistering wall of sound on the band's Mission Bulb LP, listeners get the feeling that something special is going on here. It makes you wonder how such a gem as this has gone relatively unnoticed, a fact that Homeless hopes to rectify in 2014.
Yes I'm Leaving have been bubbling away in the suburbs for a few years, releasing three LP's and perfecting an intense live show that is something akin to a sonic melting pot of Scratch Acid and Big Black. The band's rhythm section, comprised of bassist David Cook and drummer Anthony Boyer, create a brutal steamroller that serves as the perfect platform to aid Billy Burke's thrashing guitar and borderline tortured vocal delivery. Not since the days of Stu Spasm's Lubricated Goat has Sydney seen such an intriguing mix of noise and menace.
---
Share this Product
---
More from this collection