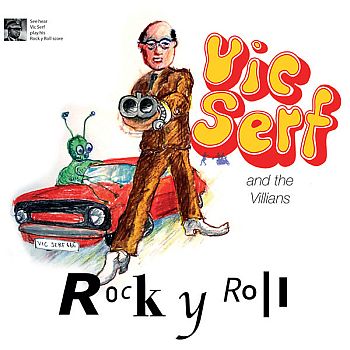 War Extension
VIC SERF AND THE VILLAINS - Rok Y Roll LP
Includes 4-pg booklet.
Highly recommended. 

Rated by us among the best reissues of 2018. Vic Serf & The Villains' playful 1983 avant-garde concept tape - a suite of skewed Rock 'N Roll played by aliens for earthfolk. It's nuts in the best way - imagine Joe Meek meets The Residents... 

This album was part of a rampant recording program by Welton in which he released, with help from many collaborators, an irrepressible number of bands and their albums, such as by the Just Measurers, Milk From Cheltenham, and Amos and Sara. Musicians on the album comprised Vic Serf (alias of Jim "Amos" Welton), Cathy Spermwrecker, Rita Chulo, and Larry O'Houlihan, along with guest appearances from Ron Dealo, Lepke B., and Sara Fancy. Rok Y Roll imagines an alien race based on a planet far away who have received radio signals beamed from earth in the '50s: rock and roll music; they assume that these signals are the language of the earth people and concoct a reply.


---
Share this Product
---
More from this collection