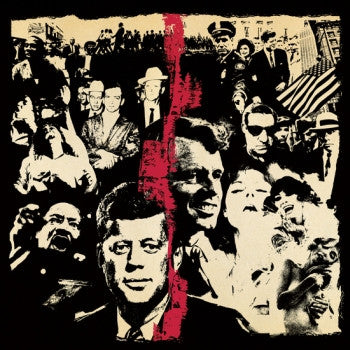 Iron Mountain Analogue Research
v/a- THE BALLAD OF JFK: A MUSICAL HISTORY OF THE JOHN F. KENNEDY ASSASSINATION (1963-1968) 2LP
Deluxe gatefold LP with exclusive scholarly liner notes by David Thrussell.
Limited edition compilation of incredibly rare 45s and subterrantean cuts reissued for the very first time. Includes OBI strip.

A pivotal moment in 20th century politics, history and culture - the November 22nd 1963 assassination of President John F. Kennedy (in Dallas, Texas) produced a mountainous range of forgotten, discarded and ghostly vinyl artefacts. Country songs, private-press lamentations, mournful poetry and violent political diatribes were rushed onto roughhewn 45s and marginal LPs that vied to be heard above the noise and confusion. Collected here for the very first time are 20 of the strangest, most affectionate, controversial and insightful. Blistering indictments of the alleged assassin Lee Harvey Oswald, haunting reflections on destiny and co-incidence, profound ballads of regret and striking protestations for the truth. A tumultuous archive, previously consigned to oblivion, that captures events, emotions, recollections, grief, pain and anger - a plasticised 'Stone Tape' formed in reverberant rubble. As the controversy around John F. Kennedy's death refuses to subside, so these vinyl relics continue to whisper from the shadows.
---
Share this Product
---
More from this collection