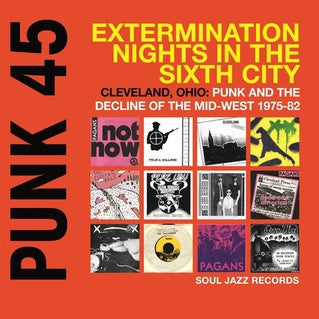 Soul Jazz
v/a- EXTERMINATION NIGHTS IN THE SIXTH CITY- CLEVELAND OHIO: PUNK AND THE DECLINE OF THE MIDWEST 2LP
Includes download code. 
Highly recommended. 

Soul Jazz has released two new anthologies of Ohio proto-punk, punk, and post-punk from the late '70s and early '80s: Burn Rubber City, Burn! (centered on Akron) and Extermination Nights in the Sixth City (centered on Cleveland). Of the two, Burn Rubber City, Burn! has a clear blueprint in Stiff's The Akron Compilation. Four songs from the Stiff disc have found their way onto Burn Rubber City, Burn!, but that slight overlap isn't enough to make the album redundant. Instead, the record fleshes out the portrait of Akron past. Bizarros and Rubber City Rebels blurred the line between bluesy, hard-rocking, keyboard-spiked proto-punk; in particular, Bizzaro's own slithery theme song, "I Bizarro", dramatizes the shift between Detroit stoner-snarl and punk's frantic animosity. And although "Rubber City Rebel" doesn't appear on Burn Rubber City, Burn!, the group is well represented by "Kidnapped" and "Such a Fool", two tracks taken from their '77 split with the Bizarros that demonstrate the no-holds-barred ethic of the time, before punk became petrified by its own image; the former is a raw, blistering spasm that predicts the coming hardcore storm, while the latter sounds as if it could be a raucous Alice Cooper demo.

Any Akron comp without Devo, however, would be disastrously incomplete, and Burn, Rubber City, Burn! includes the 1974 demos of "Mechanical Man" and "Auto Modown". Robotic, withdrawn, synth-twiddling, and playfully bleak, these two songs set the tone for later comp highlights such as Chi-Pig's "Apu Api" and "Ring Around the Collar". Neither would have been out of place on a contemporaneous Rough Trade comp, and members of the Slits-esque Chi-Pig would go on to co-write Devo's "Gates of Steel". (Mark Mothersbaugh, meanwhile, penned the lyrics for the group's "Ring Around the Collar".) Their presence helps pinpoint the big bang of Akron's more experimental contingent.
But for every gem like Jane Aire & the Belvederes' "When I Was Young"—in which Aire belts out gutsy and righteous tirades over jerky math-punk—there are oddities like "Narrow Road" by 15 60 75 Numbers Band—a listless, jazz-fusion meander that seems to have been listed for historical purposes only, seeing as how the group's lineup consisted, at one point or another, of Gerald Casale of Devo as well as Chrissie Hynde, an Akronite who moved to England and launched the Pretenders just before the Akron scene took off. It's unfortunate, also, that this completist spirit didn't spill over to the Cramps, who recorded a definitive batch of punkabilly demos in Akron in 1979 and whose frontman Lux Interior was a native.
Akron has been honored with two documentaries about its punk heyday—2003's It's Everything, and Then It's Gone and 2005's If You're Not Dead, Play. Cleveland, meanwhile, has had none (with the exception of 2007's Cleveland Screaming, covering the city's '80s hardcore scene). Yet Cleveland's leading band of the era, Pere Ubu, were every bit as trailblazing as their Akron counterparts Devo. The fresh context of Extermination Nights in the Sixth City gives the anthology's two Pere Ubu selections—"Heart of Darkness" and "Final Solution", plucked from their first two singles circa 1975 and '76—even more stark power. Leader David Thomas was still going by the ominous moniker Crocus Behemoth, and his mystique pervades these remarkable documents, which foreshadow the poetic tension and asperity of post-punk before punk itself had even solidified. Pere Ubu's predecessor, Rocket from the Tombs, gets a single song, "Life Stinks", but that's all they need; the anti-anthem remains as haywire and nihilistically disjointed as the day it crawled out of Thomas' feverish brain.
Cleveland contained plenty of protean talent besides Pere Ubu and kin. The Dead Boys, featuring former members of Rocket from the Tombs, may have broken out of Cleveland and headed for New York's CBGB scene, but plenty other punk-rock provocateurs stayed behind and flourished like blacktop weeds. Among them were the Pagans, Cleveland's answer to Rubber City Rebels. Their pulsing, Iggy-like conniptions are represented on Extermination Nights by three raging tracks, most notably the garage-rock-on-glue-fumes desperation of "Dead End America"—a beer-swilling, blue-collar rallying cry in the midst of socioeconomic collapse.
The artist side of the Cleveland scene finds expression on Extermination Nights, too. The Electric Eels, trafficking in punk savagery on "Splittery Splat" and avant-rock deconstruction on "Bunnies". The Mirrors' jangling, atmospheric "Hands in my Pockets" parallels Television's dreamy vistas as well as England's Swell Maps; Poli Styrene Jass Band's twisted "Drano in Your Veins" is a fit of Syd Barrett-meets-Frank Zappa whimsy. These quirks help make for a more solid, consistent listen than Burn Rubber City, Burn!—a higher batting average aided by the fact that Pere Ubu's tracks here reflect some of the best and most important music the group ever created, while Devo's contributions to Burn Rubber City, Burn! amount to mere marginalia.
Ironically, one of the most popular bands to emerge from the collective ooze of Burn Rubber City, Burn! and Extermination Nights in the Sixth City were the Waitresses. The quirky, lackluster, blues-rock oddity "The Comb"—which appears on both The Akron Compilation and Burn Rubber City, Burn!—in no way prepares us for the new-wavers who eventually charted with "I Know What Boys Like", performed the theme song to "Square Pegs", and were covered by the Spice Girls and on "Glee". Their success underlines the lack of cohesion to the Akron and Cleveland scenes. They were a free-for-all mix of inspired amateurs, ambitious opportunists, and serious, self-styled artists. In that way, Ohio wasn't all that different from any other place, then or now.
Still, there's an underdog pride and a furious invention to this music that unites these anthologies. The ache of doomed ambition, of a creative spirit pushed to the limit of endurance, and often well beyond, is palpable. Industrialized civilization may have been crumbling in the Rust Belt in the late '70s and early '80s, but Burn Rubber City, Burn! and Extermination Nights in the Sixth City prove just how much decay, disenfranchisement, and the specter of encroaching dystopia can fuel the fiercest of sounds.
---
Share this Product
---
More from this collection