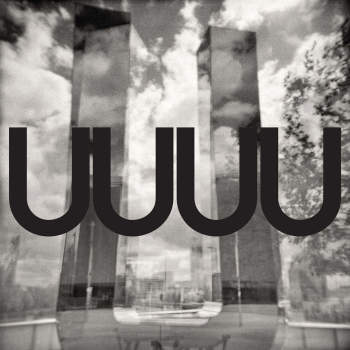 Editions Mego
UUUU - s/t 2LP
Highly recommended. 

UUUU is an outfit featuring Edvard Graham Lewis, Thighpaulsandra, Matthew Simms and Valentina Magaletti. Individually these humans have implanted feathers in caps such as Wire, Coil, Dome, Tomaga, Vanishing Twin and create head expanding motorik music that chugs along with perpetual percussion, blankets of feedback and state of the art electronics all embedded with a spectral melody that encircles proceedings as all sonic proceedings veer out further into more mystical ambient planes.

"It's Valentina Magaletti (Tomaga, Vanishing Twin, Raime) who initially grasps the attention most effectively. The essential DNA of UUUU is that seething, nebulous realm where rock, drone, electro and more esoteric fare often collide. With such combinations, you need a strong hand to hold it together, and Magaletti is like a titan on opener 'The Latent Black Path of Summons Served' (what a title - no surprise someone once associated with Coil is involved, although it also evokes Skullflower or even Keiji Haino). Her gentle combination of bells, cymbals and rattles delve deep into darkened waters from the off, with the others' strange effects contributing to an early sense of industrial unease. Magaletti then kicks into a sparse, staccato rhythm, seemingly on metal bowls before upping the tempo with a danceable snare patter which allows Simms to deploy some grotty guitar licks over a mass of unhappy electronics from Lewis and Thighpaulsandra. The track builds gradually, twisting into a ritualistic form of funk (Lewis is in his element on bass) before the quartet dissolve everything into a morass of distorted feedback, berserk noises and free jazz drumming. Magaletti comes on like a modern day Steve Shelley as she wallops the toms and kicks the bass drum like a dervish.

For an album so heavy and visceral, UUUU is nonetheless dizzyingly busy. On 'Partial Response Takes Another Form', Magaletti leads the build-up with another jazzy shuffle to support seething, murky electronics before someone whips out a mournful sax to add an extra layer of melancholia. The piece threatens to burst into another workout like 'The Latent Black Path…' but instead recedes into a subterranean dark ambient blues. In complete contrast to these slow-burning blends of prog, noise, rock and jazz, the short 'Boots With Wings' is like an overdriven Wire outtake, with Edvard Graham Lewis providing the vocals and groovy basslines. 'It's Going All Over the Floor' is a mutated form of industrial dance, but with its slinky beats undermined by spasming electronic blurts and wispy, almost new romantic guitar stabs. 'The Princess Anne Love Cassette' belies its jocular title as Matt Simms traces grim lines with his guitar and the electronics descend into oppressive darkness.

At UUUU's heart lies the bloated, ridiculous, wild and frequently beautiful 16-minute wigout that is 'Five Gates'. It surges out of the speakers like an early Cure song overloaded with fuzz and distortion, Magaletti maintaining a simple rhythm under cascades of icy synths. But the quartet quickly tear it down with a demonic chorus and a collapsed-building jazz freakout that plunges the track into a pit of seething noises and freeform drum and guitar friction. Ever impatient, UUUU then shuffle into a mesmerising motorik groove, complete with seesawing guitar lines straight out of the Manuel Göttsching handbook which they perversely lock into with apparent glee even as they allow the piece to meander almost aimlessly. "Almost" being the appropriate word, because 'Five Gates' surges back into focus with almost delirious potency, the band channeling Hawkwind, Haino, early Tangerine Dream and Coil all at once to create a bewildering cocktail of abrasive, hypnotic and ferocious rock mayhem. There's nothing subtle on 'Five Gates' or indeed across the entirety of UUUU, even on the quieter moments, but the quartet's enjoyment at such untrammeled ritualistic chaos is a thing of beauty in and of itself."


---
Share this Product
---
More from this collection