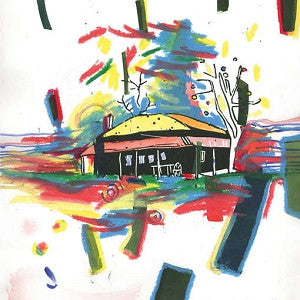 Chapter Music
TWERPS - s/t LP
Twerps started out with a 'the' sometime in 2008, playing their first gig at a warehouse party above a chemist in the Melbourne suburb of East Brunswick. Their ambitions were humble, their musicianship was rudimentary, but their songs were touching, cheeky and instantly captivating.

At first it was guitarist/vocalist Martin Frawley, guitarist Julia McFarlane, bassist Rick Milovanovic and drummer Patrick O'Neill. From some lo-fi home recordings on Myspace, the band were approached by US label Night People to do a cassette. Guy & Ben from Chapter Music were at their first gig and also asked to release something, but after a while Twerps thought they'd changed their mind. Turns out Twerps had forgotten to actually send them the recordings!

Recorded by Mikey Young, the 9 song self-titled EP eventually came out on Night People and Chapter in 2009. Chapter's version took the odd form of a four song 7", accompanied by a CD with the full nine songs on it. Everyone loved it. From that simple starting point, Twerps have become one of Australia and the world's favourite guitar pop bands. Their two much-loved albums Twerps (2011) and Range Anxiety (2015) were released by Chapter Music, the first as a co-release with US label Underwater Peoples and the second released outside Australia/New Zealand by Merge Records. Pat and Rick departed (replaced by Alex Macfarlane and Angus Lord) and Julia stepped forward to share songwriting duties with Martin. Six years on, it's clear that Twerps capture a special time and a special magic.

Out of print physically for the last few years, Chapter is excited to reissue the original EP as a vinyl LP, with new photos and liner notes, plus a bonus track in the form of a rehearsal version of early classic Little Guys.


---
Share this Product
---
More from this collection