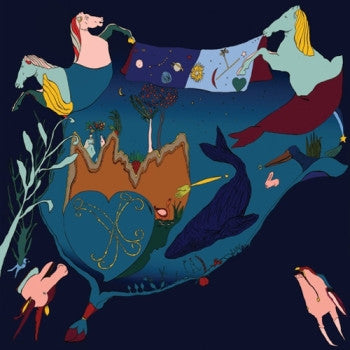 Ba Da Bing!
TINY HAZARD - Greyland LP
Greyland, Tiny Hazard's debut, is a raw, jagged treasure— a testament to the group's masterful intuition for pop songs in chaos. This jagged, unpredictable, celestial music is filled with terrestrial pain.

The Brooklyn-based five piece, who formed when the group met at The New School, is anchored by the vocals of songwriter Alena Spanger. She recorded the vocals in the solitude of her bedroom, carving out a space that allowed her to explore the nuances of her voice. Her songwriting process began with gibberish and stream-of-consciousness style thoughts sung over melodies, eschewing the clumsiness of real words in favor of tone or timbre. Then she focused on the language, a slow process, to "try and get it just right." Trained in opera, Spanger prefers "voices that are not perfect," and was moved to explore vocal possibilities when she heard Meredith Monk.

Spanger plays keyboards, Ryan Weiner wields a guitar that is often sonically unrecognizable, while Ronald Stockwell's drumming and Derek Leslie's bass playing are painterly in softer moments, but drop unexpectedly into immense grooves, while Anthony Jillions colors Spanger's vocals with synths and occasional effects. The album was produced by Jillions under the creative direction of the group, and recorded in studios and bedrooms, in an organic, all-hands-on-deck fashion. Each song is its own vivid capsule independent from the next, but they unite on Greyland to convey something viscerally human.


---
Share this Product
---
More from this collection