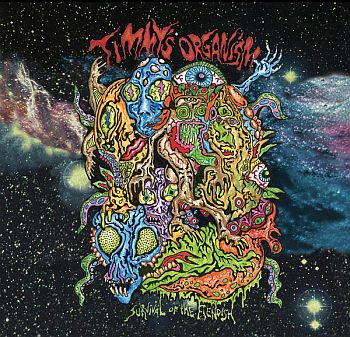 Burger
TIMMY'S ORGANISM - Survival of the Fiendish LP (colour vinyl)
Limited edition Yellow / Pink swirl colour vinyl.
Includes inner sleeve.
Highly recommended.

So this is the new album by Timmy Vulgar's band Timmy's Organism, so named because its a beast. Vulgar (guitar/vocals) made it in six months in spring 2018 with Jeff Giant (bass) and Blake Bovver Hill (drums), two guys who've been the beating about-to-burst heart of the Organism for about three albums now, including one for Third Man and one for In The Red. "I've been on almost every single underground garage punk label there is", says T.V. proudly, and now he's the fresh meat on Burger. But when you hear a Timmy Vulgar record, you will know it's a Timmy Vulgar record and nobody else's record, and Survival of the Fiendish is an extremely Timmy Vulgar record. Even more Vulgar! Its as Vulgar as Vulgar gets. Sure, make connections: Guzzle Gasoline is like Raw Power-ed freak rock; God of Comedy is like Destroy All Monsters on a solo Roky nightmare trip; Bitter Pill is like one of those Cleveland 197X tearjerkers Rocket From The Tombs, Dead Boys, ain't it fun?about losing your mind to and Wall Of Grey is post-apocalypse proto-punk just like Chrome and Mick Farren knew would come true. Its been almost twenty years and Timmy Vulgar is still the king of hard-to-make (and harder to fake) rock n freak n roll made from black light and white heat. Hes been covered in bloodstains, killed by death, ripped from the crypt and sent back from the grave. He worked long and hard to get you this music. He went out into the dark and brought back fire. That's what must be done to survive.


---
Share this Product
---
More from this collection