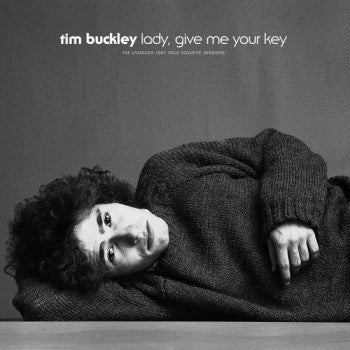 Future Days
TIM BUCKLEY - Lady, Give Me Your Key: The Unissued 1967 Solo Acoustic Sessions LP
Available here for the first time are these newly discovered master tapes, recorded by Goodbye & Hello's producer Jerry Yester, along with an ultra-rare acetate, found to be in co-songwriter (and best friend) Beckett's possession.
Of the 13 previously unreleased solo acoustic songs contained here, six of them did eventually appear with more expansive instrumentation on Goodbye & Hello (along with another four not included here). However, the crown jewel of this package is seven never-before-heard compositions. These will be new to even the most devoted Buckley fan. Arguably, two of them crept out decades after Tim's death (albeit, much different recordings than what you have here) but with little fanfare.
So much has been written about Tim Buckley but so little of it by people who actually knew him. This booklet, however, includes a detailed interview with both Larry Beckett and Jerry Yester, providing real insight on how these recordings came to be and attempting to uncover the man behind all the myths, the real Tim Buckley.
Several rarities releases in the 1980s and '90s shed light on his talent, especially the live recordings, but all of the studio material has generally been alternative versions of songs that fans already knew—until now. This is the first-ever posthumous release that reveals a wealth of previously unreleased and unheard tracks from Tim at the peak of his career.
---
Share this Product
---
More from this collection