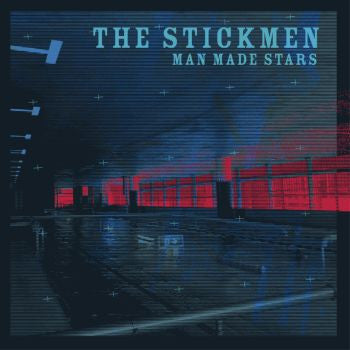 Homeless
STICKMEN - Man Made Stars LP
Limited to 350 only. 
Includes d/l code. 
Blue vinyl housed in a deluxe "tip-on" sleeve. Inner sleeve with liner notes. 

Bonus poster. 
Highly recommended.
Seemingly spontaneously, the tiny Hobart music scene underwent a radical upheaval in the late 1990s. Not content to slog it out on the local cover band circuit or to court the indie mainstream prevalent on the mainland, young bands like Sea Scouts, 50 Million Clowns, Little Ugly Girls, The Frustrations and The Nation Blue turned inward, channelling the experiences of growing up in an insular outpost of civilisation into an uncompromising din of noise rock that bore little or no resemblance to what was happening anywhere else in the world.
Foremost among this group of restless explorers were The Stickmen. Their sound was a dark blend of post-punk rhythms, mutated surf-rock guitar lines and tightly wound nervous energy. Guitarist/singer Aldous Kelly conjures a foreboding atmosphere that perfectly reflects the damp, crepuscular ambience of cold winter nights in Hobart. Drummer Ianto Kelly and bassist Luke Osbourne lock into skittish grooves, while Matt Greeves' innovative use of turntables acts both as a rhythmic device and source of unsettling atmospherics.
Their second album,
Man Made Stars
(1999), represents not so much a progression as a consolidation of The Stickmen's vision. Having made tentative forays to Melbourne, where they dazzled small audiences with a bunch of explosive live shows, this album sounds more self-assured, delivering bona-fide classics such as the title track and their signature tune 'City Is Dead'.
In typically uncompromising Tassie style, the band did not see out the end of the year though. Having made their point concisely and definitively, they disbanded to pursue other interests and musical ventures, Aldous eventually relocating to the even bleaker environs of Greymouth, on the West Coast of New Zealand's South Island.
That should have been the end of The Stickmen. Unbeknownst to the band though, over the years their legend grew. Enthusiasm was fanned by ex-Hobartians who had achieved a degree of influence in the Australian music scene, such as Mike Noga, drummer of The Drones, and The Nation Blue's Tom Lyngcoln, who released a Stickmen compilation CD,
Who Said It Would Be Good?
, on his label Solar/Sonar in 2008. The unhoped for occurred in February 2013, when the band reformed to play All Tomorrow's Parties in Melbourne, at the behest of festival co-curators The Drones. It immediately transpired that The Stickmen had lost none of their chemistry or propulsive power, and they made a further surprise appearance at Hobart's Dark MOFO festival in June, being rightly celebrated as local heroes.
It is extremely timely then that HOMELESS re-releases both The Stickmen's classic albums. This also marks the first time these recordings, remastered by expert engineer Mikey Young, are available on vinyl.
---
Share this Product
---
More from this collection