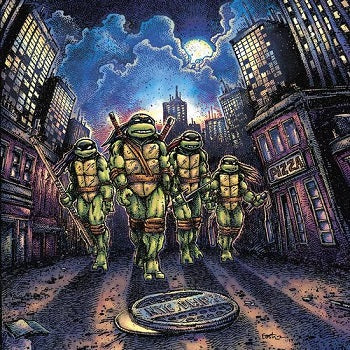 Waxwork
TEENAGE MUTANT NINJA TURTLE OST - by John DuPrez 2LP (colour vinyl)
Complete 1990 score by John DuPrez, available for the first time in any format. 
New art by co-creator Kevin Eastman 
180 Gram 2xLP orange & green colour vinyl 
Poster illustrated by Kevin Eastman 
1990 movie poster postcard 
With a highly anticipated live-action motion picture released in 1990 TEENAGE MUTANT NINJA TURTLES proved to be the biggest pop-culture property in the world for the time. Lifted from the pages of the popular comic series, a wildly successful Saturday morning cartoon, and a massive hit-line of toy action figures, the motion picture adaptation of the beloved crime fighting turtles brought the franchise to the next level.
The gritty and dark NYC martial-arts-superhero-comedy featured the four cherished ninja turtles with a slew of other idolized characters such as Master Splinter, Shredder, Casey Jones, April O'Neil, and The Foot. The film marks the highest grossing independent film at the time and spawned two sequels, The Secret Of The Ooze in 1991 and Teenage Mutant Ninja Turtles III in 1993.
Sourced from the original masters, the complete film music by DuPrez has been re-stored and re-mastered for a deluxe double LP album release. This special release marks the very first time the score has been released in any format.
The complete album art was created by Kevin Eastman exclusively for Waxwork Records, and it features his classic comic-book style presented as a sequential storyline of the 1990 film! Packaging includes double LP 180 gram colored vinyl, a poster illustrated by Kevin Eastman, old style tip-on gatefold jackets with satin coating, and a 1990 TMNT film poster postcard.
---
Share this Product
---
More from this collection