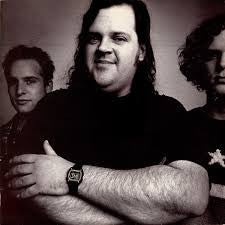 Sub Pop
TAD - God's Balls LP
Includes d/l code.
Loser Edition colour vinyl.
Remastered, with lyrics, interviews and full size poster.

When the genre known as grunge is discussed, the conversation usually turns to the lasting impact made by the scene's 'big three', namely Nirvana, Mudhoney and Soundgarden. However, one of the first bands to break out of Seattle - long before the term had been coined - were Tad, effectively the brainchild of Thomas 'Tad' Doyle, their larger than life frontman. Doyle, himself well known around the local circuit having played in several bands - mainly as a drummer - prior to starting his own group, used his contacts well to seek out recruits from in and around the area. Bass player Kurt Danielson had played with Doyle both in the same band (Bundle of Hiss) and other groups billed together around Seattle, while drummer Steve Wied was also well known and respected among those in the local scene. Meanwhile, Chicago born guitarist Gary Thorstensen was known to Seattle native and Sub Pop founder Jonathan Poneman having played with him in the band Tree Climbers, so through mutual acquaintances and a shared love of the same music, particularly UK industrial noise outfit Head of David, Tad were born. 
What's most interesting - and perhaps symbiotic–  is the way Tad initially became the forebearers for Seattle's burgeoning music scene. Both Mudhoney and Nirvana supported them in their early days - Kurt Cobain and co's first UK tour actually finding them propping up a three-band bill with the aforementioned - yet for whatever reason, while the other two went overground with varying levels of success, Tad remained an underground cult sensation. By the time they'd signed to Warner Brothers subsidiary Giant Records in 1991 the writing was already on the wall for the band. Two critically acclaimed albums in, their ascension into the mainstream stalled while others' flourished. Three more albums came and went culminating in 1995's Infrared Riding Hood but with Thorstensen and Wied having long departed the band, Tad were unceremoniously axed by the label within a week of the record's release.
So it's probably no surprise that this series of reissues solely focuses on their Sub Pop years. Released as three separate deluxe editions containing bonus tracks recorded during each individual period, they're a welcome addition to both the label and grunge canons for a band long overdue a career reappraisal.
Having released their debut single 'Daisy' in August 1988, Tad enlisted local producer Jack Endino once more with the intention of putting together an album. By the end of that year, God's Balls was ready and in March 1989 saw itself released to an unsuspecting public still caught in a melee of hair metal and hardcore punk. Taking influence from both metal and punk, Tad were undoubtedly a pivotal band in the development of a sound that was soon to be known as grunge. Listening to God's Balls now, it still sounds quite brutal, tormented even, in places. Yet by the same token it retains an accessible quality: even when compared to the genre's commercial golden era post-Nevermind, it remains a mystery how Tad never broke through in the same way. With industrial noise bands like Einsturzende Neubaten, Ministry and Big Black all the rage at the time, Tad employed an array of unconventional implements while recording the album. So alongside the traditional vocals, guitars, bass and drums were a combination of hacksaws, CB radio microphones, a large brass tube from a microwave transmitter and an empty gas tank taken from the body of a car. Listening back to songs like 'Behemoth' and 'Pork Chop' today, it's clear Tad were making uncompromising music with an underlying sheen of radio friendliness clearly intended to subvert the mainstream. "Do as you're told, do as I do" declares Doyle assertively on the direct squall of 'Helot' while the suggestively titled 'Nipple Belt' finds the frontman insisting "I need more antifreeze to keep my girls young." Adding both tracks off their debut ('Daisy' and 'Ritual Device') along with a much more aggressive version of album track 'Tuna Car', recorded during the same sessions as the 45. The God's Balls deluxe edition is as good a place as any to start delving into the incendiary and occasionally debauched world of Tad.
The second reissue in the series, 2009's Salt Lick EP finds the foursome locking horns with Steve Albini for what would be the first and only time. Recorded at the tail-end of 1989 and released in April the following year, it stands out as the most challenging, uneasy listen of their career. Having been fans of Albini's work in Big Black and Rapeman, it was a marriage made in noise rock heaven, albeit one that's probably years ahead of its time. Lyrically grotesque and obscene in places, although Doyle would later go on to declare most of the songs' subject matters "tongue in cheek", it helped create the legend that Tad were one of the most uncompromising acts around. "Look down motherfuckers!" screams Doyle over 'High On the Hog', a sludgy Sabbath-inspired monster that doesn't sound a million miles away from Albini's Shellac. 'Wood Goblins', arguably their best known song fuses aggression with deconstructed angular riffs that arguably laid the blueprint for late Nineties post-hardcore while Doyle's penchant for a sexual innuendo or two rises to the fore on 'Hibernation'. Elsewhere,'Loser' and 'Cooking With Gas' which came out as a seven-inch and b-side on the 'Wood Goblins' twelve inch respectively sit side-by-side with 'Habit Necessity' off the 1989 'Dope, Guns 'N Fucking in the Streets' compilation EP and 'Damaged', released the same year as a split seven-inch single with Pussy Galore. As an entry point it's perhaps not the easiest way to access Tad's unyielding back catalogue but it still serves a purpose as their most uncompromising body of work.
The third and final reissue comes in the shape of 8-Way Santa, their second album for Sub Pop and record that would eventually provide the gateway to a major label. Recorded in 1990 at Madison's Smart Studios with Butch Vig who'd later go onto produce Nevermind for Nirvana, it's an infinitely less harsh album than Salt Lick and one that not only sees a return to the metallic punk of its predecessor, but also offers a mellow insight into the band's make-up. Both '3-D Witch Hunt' and 'Plague Years' resonate with a similar slacker mentality to Bug era Dinosaur Jr or latter period Husker Du. Elsewhere, the sludgefest that's 'Delinquent' finds Doyle in typically resilient mood ("Ain't no life gonna bring me down") while 'Giant Killer' offers prototype grunge without any frills ("I think I lost my way"). 'Hedge Hog' is perhaps the closest 8-Way Santa harks back to the nascent noise rock of Salt Lick while the short sharp shocks of 'Candi' and 'Crane's Cafe' show Tad's angrier punk rock guise. The bonus tracks here include 'Pig Iron' which came out on the 'Jinx' seven-inch and an unreleased composition entitled 'Nuts'N'Bolts' which follows Tad's more familiar path of slug it and see. Five demos of songs recorded with Jack Endino that eventually made it onto 8-Way Santa make up the rest of this deluxe edition, and while not as hard hitting as Salt Lick or definitive as God's Balls, it's another worthy addition to anyone's collection.
Having finally split in 1999, without a label and shedding members on a regular basis, the Tad story limped to the finishing line rather than crashed and burned like some of their peers. Nevertheless, recognition is due and hopefully these reissues will reignite interest in one of Seattle's most overlooked bands.
---
Share this Product
---
More from this collection