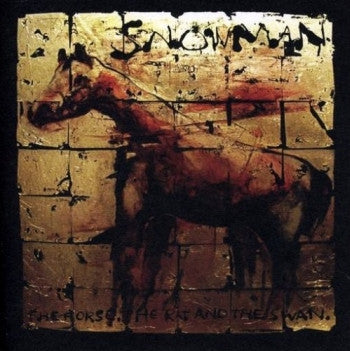 Trait
SNOWMAN - The Horse, The Rat And The Swan LP
Includes download code.
Limited to 300 copies only. Gold vinyl.
Highly recommended by Strangeworld.

Perth Australia's Snowman managed to take some of the snarliest, sickest and most disturbing post-punk sounds imaginable and give them an infectious, surf-inspired spin.

Their sound can be poorly described as the spooky artiness of Liars mixed with the Gothic industrial sounds of Coil. Even some traces of New York's avant-noise scene slip in here, with some of the bleaker psychedelic passages reminding of early Swans (White Light, Children of God). Far from being a mere encyclopedia of rock's darker corners, Snowman is compellingly original, with foot-stomping darkwave grooves pounding behind psychotic vocals and eerie guitar work. Despite the gritty asylum atmosphere haunting the whole affair, this album is surprisingly accessible, as the songs are direct and full of alternative hooks to keep them focused.

Whether they are hell-bent on laying down powerful post-punk rhythms, or dabbling in the rolling ambient of tracks like "The Blood of the Swan", Snowman offers a highly defined, profound and menacing listening experience. Its steady arrangements and pacing will also keep you on your toes throughout. Like any good, sinister work of art, The Horse, the Rat and the Swan grows on you over time.


---
Share this Product
---
More from this collection