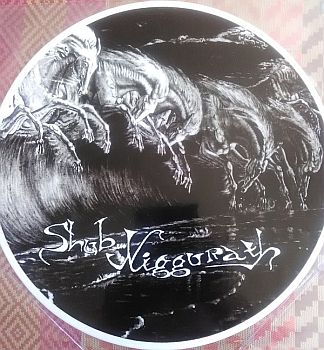 Soleil Zeuhl
SHUB NIGGURATH - s/t (Introduction) LP (colour picture disc)
Limited edition of 500 hand numbered copies, on white vinyl picture disc.
Official reissue of 1982 album.
Highly recommended. 

The music sometimes recalls Univers Zero, Penderecki, Magma and the most experimental side of King Crimson for its dark, oppressive, tortured atmospheres. The band was named after a fictitious goddess from the 'Cthulhu' mythos of H.P. Lovecraft.

"This Shub Niggurath album features the band's very first recordings, it is an absolute killer! Of all the second-generation French Zeuhl albums perhaps this recording best recreates the savage intensity of Magma's early period instrumental moments. The two extended pieces, 'Yog Sothoth' and 'Barback', by the band's two composers Jean Luc Herve and Frank Fromy, come from out of left field to musically blow the cobwebs out. The album closer 'In Memoriam' is fittingly titled and works to perfection as a final musical footnote to the album. You will not find more powerful music made by anyone, anywhere than on 'Introduction'. In fact, it may well be one of the top 5 French albums to have come out of the second wave of the French Zeuhl movement." ~Archie Patterson (Eurock). 


---
Share this Product
---
More from this collection