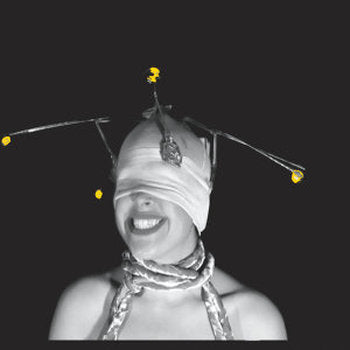 Drop Medium
** FLASH SALE ** SHIMMER - s/t LP
Includes download code. 

It seems rare these days that noise rock is what it's advertised as. Bands use a fuzz pedal and suddenly they're self-proclaimed noise art. But not Brooklyn quartet Shimmer. With their debut S/T LP, it's safe to say you get what you pay for. A rollicking blend of incoherent rhythms, trebly-beyond-trebly guitar, and unheard of vocals constitute the ten-tracks-in-twenty-three-minutes of this record. Pulling from, and fleshing out everything lamentable about the state of the world today, Shimmer sprints in the opposite direction of convention and tears down anything resembling "pretty" complacency along the way. Ani Ivry-Block's blood-curdling guttural howls smash the two-way mirror of societal norms to bits and leave us to try to piece it back together and make sense of it, jumping from the pure outrage of opener "Enter Shimmer" to the pensive, ill-at-ease whispers on "Okay" and "Heavenly - Not Fade Away," and back again.

It's all surrounded and supported by a car crash of twitchy, heavy instrumentation that familiarizes its listener with the obscure and absurd. Pounding kick drum and swooping bass are punchy enough to knock the taste out of your mouth, while the guitar's twang and the snarling, throaty growls of Ani's rage enter your psyche with the subtlety of a demonic possession. Carving their own road out of crude materials, Shimmer has taken the noise-punk thing and turned it on its head, giving way to endless possibilities for their future, and this is so far speaking solely about a record.


---
Share this Product
---
More from this collection