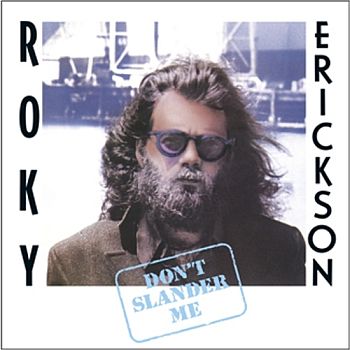 Light In The Attic
ROKY ERICKSON - Don't Slander Me 2LP
* BACK IN PRINT !! *
2LP housed in deluxe gatefold cover, includes booklet, download code, and etching by artist Travis Millard (on Side D). 
Highly recommended. 
Celebrating a creative purple patch by a singular performer, Light In The Attic is to reissue the three Roky Erickson albums orchestrated by Orb Productions, Craig Luckin's San Francisco-based music company. In revisiting The Evil One (LITA 097), Don't Slander Me (LITA 098) and Gremlins Have Pictures (LITA 099), we hold a lens to a unique artist beloved of Sonic Youth, Spacemen 3, ZZ Top, Jesus And Mary Chain, The Black Angels, Jack White and many more.
If The Evil One was the album that broke Erickson out of the indie ghetto and brought him to a worldwide audience, the follow-up, 1986's Don't Slander Me was the one that showcased his rock and roll sensibilities like no recording before. Losing the more out-there and exotic elements of earlier and future albums, it presents us with Erickson the rocker, playing punk, rockabilly, blues and – in 'Burn The Flames', later found on the Return Of The Living Dead soundtrack –even power ballads.
Erickson was just 15 when he wrote 'You're Gonna Miss Me', the song that epitomized the garage rock movement and inspired punks, rockers and noisemakers ever since. In another life, Erickson and Austin-based band could have been as big as any of the '60s legends still making music today. But fate took Erickson down a meandering path via the Houston psychiatric hospital where he was institutionalized for almost a decade following a diagnosis with paranoid schizophrenia in 1968. Erickson's experiences in the hospital proved to be fertile inspiration for his music – on leaving, he formed the group Roky Erickson And The Aliens and began penning songs about zombies, demons, vampires, and – to counter the B-movie monsters, the real-life monsters of social injustice.
Yet with Don't Slander Me, Roky almost stuck his spike in the turf of the rock establishment. Recorded with a rolling cast of musicians following the dissolution of The Aliens, the birth of The Explosives and a recording band featuring members of both, the album was recorded against a backdrop of the emerging punk scene, which arrived late to Erickson's native Texas. Following the well-received The Evil One, fan interest was at an all-time high, but progress was slow. Roky Erickson was in demand. Everyone wanted a piece of him. But the man himself was prone to drug-induced emotional tailspins, and this mainstream land grab would not last long.
Life would rarely, in the future, be easy for Roky – he has at various points found himself destitute, not in control of his own affairs, celebrated, supported and reinvigorated. But the three-album arc of which Don't Slander Me represents the apex remains among his best, most cherished work. Never again would Roky Erickson's music be so tight, so together, and so blazingly rocking.
---
Share this Product
---
More from this collection