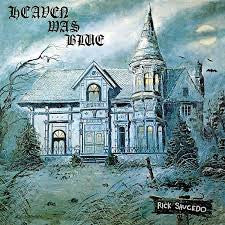 Guerssen
RICK SAUCEDO - Heaven Was Blue 2LP
First ever legit vinyl reissue of Rick Saucedo's mind–expanding, one–man, multi–tracked private press miracle in sound from 1978.

"Heaven Was Blue" drifts in the same sonic milieu as fellow travelers in '60s square peg joy Darius, Marcus, D.R. Hooker (without the lounge allusions), or late period psych adventurers Michael Angelo and Bobb Trimble–and his concentration and vision equals or exceeds these international underground heroes. 

Rick Saucedo is an internationally–known Elvis tribute artist, actor and singer–songwriter from Chicago. In 1978, after some years of doing his Elvis show, he decided he wanted to have his own identity, recording an album with his own songs. The idea of "Heaven Was Blue" was born while he was doing the role of Elvis in the Broadway musical "The Legend Lives On". Influenced by The Beatles and Pink Floyd, Rick created "Heaven Was Blue" for himself, as he didn't care about the music of the time. All instruments on the album were played by Rick with a couple of friends helping him out. Songs like "Reality", which was written in a graveyard just after the passing of Mr. Presley or "In My Mind", which dated back to 1967, written just after "Sgt. Pepper" had come out, are prime examples of dreamy acid psych with Lennon–esque vocals, lysergic guitars & studio effects. There's also a couple of fuzz rockers with a strong '50s vibe and then there's the album centerpiece: the impressive 18–minute "Heaven Was Blue" suite, which Rick envisioned as an "acid trip dream". In words of Patrick Lundborg: "...Saucedo pulls it off. Somehow like how you turn the wheels on a kaleidoscope, new melodies, guitar figures and arrangements emerge out of the old ones every three minutes, each sequence more swirling and enchanting that the last, with a sense of progression throughout."


---
Share this Product
---
More from this collection