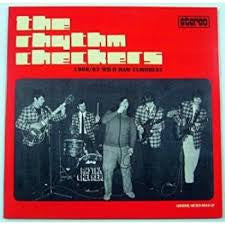 Groovie
RHYTHM CHECKERS - 1966/67 Wild Raw Eurobeat LP
Includes insert with complete history and previously unseen photographs.

The Rhythm Checkers were an exceptional beat group playing a raw mixture of rhythm and blues and rock and roll with a wild garage attitude. You could consider them the European Sonics. Formed by musicians native to France, Germany and Holland, they set the stage on fire during their shows in France between the years 1966 and 1967. In Strasbourg, the Rhythm Checkers released their first EP with their powerful composition "Cause I Need You" which is a real classic of European garage- rock. Their second EP is a unique document of their stage savageness thanks to the recordings captured live when they opened for Chuck Berry in Paris on February 1967.

The eight mythical tracks of their two rare records are present on this LP, and as bonus, both sides of their single recorded in 1972 during the reformation of the group under the name of Checkers in the prog pop style of the time.
The record comes with an insert with all the history and never published photos of the band,  both in English and French. Limited release of 500 copies only!


---
Share this Product
---
More from this collection