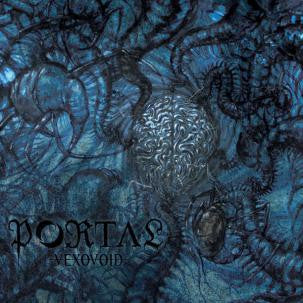 Profound Lore
PORTAL - Vexovoid LP
Includes insert and printed inner sleeve.

No death metal band in the history of the genre is as bizarre, unique and aesthetically engaging as Australia's Portal. Unfolding a singular vision through polarizing music, distinct imagery and otherworldly live shows, Portal has slowly set a new standard within the underground over the course of a decade—indeed, giving a new meaning to the term "death metal" itself. The band has spread their sonic plague via three full-length albums to date, the last of which, 2009's Swarth, brought them their highest level of recognition and praise yet.

Portal's surreal psychosis sounds like a Lovecraftian nightmare manifested; weird rhythms and perplexing musical structures twist together in a cinematic soundscape of sheer terror and madness. Vexovoid takes their artistry to new levels, delivering their biggest and most dense sounding album of their career. Comprised of seven harrowing tracks, it proves once again why Portal is the harbinger of the coming new dreadful age of death metal.
---
Share this Product
---
More from this collection