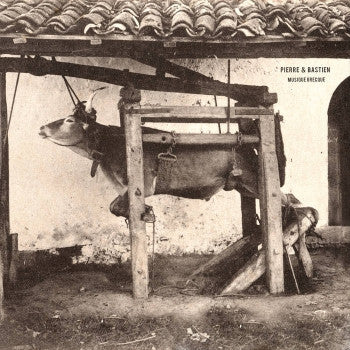 SDZ
PIERRE & BASTIEN - Musique Grecque LP
This third studio album shows the band at its best with a well-constructed set of songs. Paul Jimenes' lyrics hold nothing back but simulateneously juggle brilliantly between private and social subjects hence creating several possible levels of understanding. Dark or menancing moods chase the light and brighter ones. Once again this fight of the soul puts us, without any preciosity, at the heart of the band's life. 

Musically, the band is more powerful and intense as ever: guitarist Baptiste Nollet is particularly dazzling and Frédéric Trux pounds sometimes a nearly industrial rhythm to the songs. One could see in their sound derivations from bands like Wire, Wipers, Dogs, Metal Urbain or Reich Orgasm. To the sheer brutality or depraved psychedelics of some tracks respond some pop-like vocal harmonies of some other ones. 

From the minimalist and destructive opener "Sympa" to the dark and disturbing closer "A nu", from the striking "Secret" to the light "Musique grecque", Pierre & Bastien has crafted a dense, varied and more-complex-than-it-seems album. It's now yours to discover!


---
Share this Product
---
More from this collection