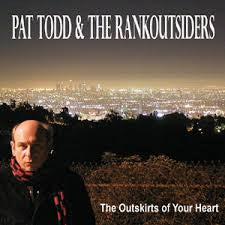 Hound Gawd!
PAT TODD & THE RANKOUTSIDERS - The Outskirts of Your Heart 2LP
Double LP in gatefold sleeve.
Highly recommended.

Former LAZY COWGIRLS front man PAT TODD is one of German record label Hound Gawd! Records' favourite artists since it's already the 4th release you can find on this fine rock'n'roll label. This double LP is a reissue of the PAT TODD & THE RANKOUTSIDERS debut album "The Outskirts Of Your Heart" (for the first time on vinyl.)
Songs on the first LP of "The Outskirts Of Your Heart" are pure rock'n'roll full of CHUCK BERRY/JOHNNY THUNDERS guitars, and songs like "No Place Like Home" or "All Night Rain/Restless Times" could have been on the first BLACK CROWES album. You'll also find some tasty punk rock ("Just Another Stupid Guy", "November 11th","Is My Last Chance Gone", "Bad Memories, Poison & Regret", "Why Don't You Marry Me"…), and The ROLLING STONES influence can especially be heard in slower songs like "Your Heart, Your Soul & Your Ass", or "Where Is She Now."
The second LP concentrates more on PAT's acoustic rock/country roots with songs like "Thought I Saw My Future In A Little Gray Dress", "Kendall County Blues", "Give Me Back My Heart", or the beautiful "It Was A Stupid Dream Anyway." The shadow of KEITH RICHARDS and friends also wanders around here ("One Long Breakdown", "I Wonder Why", or "Go On – It Don't Mean Nothin' Anymore"), and a lot of these songs could be the perfect sountrack for a drive in the South of the US.
Listening to these two records make you think that PAT TODD's influence on a band like The SUPERSUCKERS has been more then obvious. Check it out by yourself! /Laurent C.
---
Share this Product
---
More from this collection