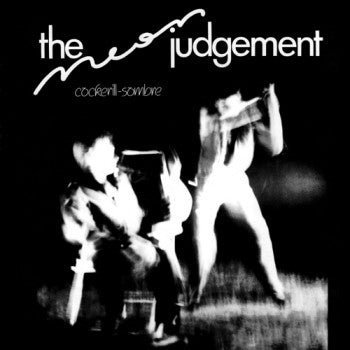 Dark Entries
NEON JUDGEMENT - Cockerill-Sombre 12"
The Neon Judgement hail from the small town of Leuven near Brussels, Belgium and gave birth to the New Beat and EBM scenes worldwide with the release of their first two cassettes 'Suffering' (1981) and 'TV Treated' (1982). Always a consistent duo of Dirk Da Davo (synthesizers, vocals) and TB Frank (guitar, drum machine, vocals) The Neon Judgment worked in a parallel world alongside Suicide, Cabaret Voltaire, and the Deutsche Neue Welle.

In 1983 they released the infamous 4-song 'Cockerill-Sombre' EP containing the dance-floor smash "The Fashion Party" on Anything But Records. Dirk Da Davo says, "First we recorded and mixed the drum parts and effects on 4-track, then we bounced this mix to 2 tracks again what left us with 2 more channels to use for vocals and additional instruments." Veering between minimalistic industrial drones, odd new wave-ish synth pop and dance music, underlain by cold, mechanical rhythms. The band combine brash and seedy lyrics, with raw synthesizer stabs and repetitive drum machine beats both aggressive and danceable. 'Cockerill-Sombre' was recorded in a small basement room under the watchful eyes of Ludo Camerberlin from A Blaze Colour.

All songs have been remastered for vinyl by George Horn at Fantasy Studios in Berkeley. Housed in the original jacket featuring a black and white photo of the duo performing live. Each copy includes a 2-sided 11" square insert with photos of the band, lyrics, and liner notes by Dirk Da Davo.
---
Share this Product
---
More from this collection