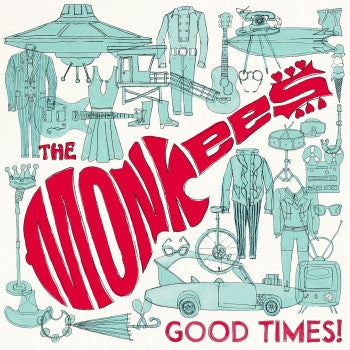 Rhino
MONKEES - Good Times! LP
Includes download code.
180 gram vinyl.

A new Monkees record in 2016, at first glance, seems ridiculous. Their previous release predates this one by nearly twenty years; in 2012, long-time band member Davy Jones passed away; Michael Nesmith, a founding member, was unable to tour for the release, citing "other commitments." But the group has never operated according to standard procedure, despite musical appearances: their origin lies in a television show of the same name; they graduated from being the "pre-Fab Four" to having critics clamoring for their induction into the Rock & Roll Hall of Fame; they evolved from a fabricated band to one whose name still rings bells half a century later.

But outside of the year on the package, it fits perfectly within the band's discography. And this is no accident; Micky Dolenz said he was looking for a record of "that 1960s jangly guitar sound," after all. So the group delved through their library of tunes never put to wax and asked around for songwriters both old and new to capture that – Weezer's "Rivers Cuomo", Carole King, Neil Diamond, Noel Gallagher, Ben Gibbard, every Monkees member, and several others appear throughout the writing credits. The result is a well-crafted pop-rock record, with top-notch harmonies and saccharine melodies throughout.


---
Share this Product
---
More from this collection