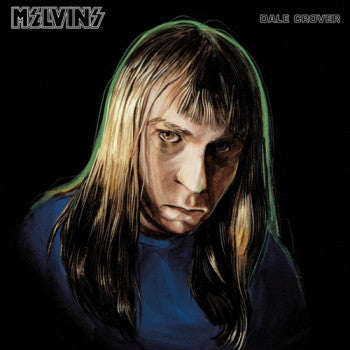 Boner
MELVINS - Dale Crover LP
Includes download code.
Highly recommended. 

While the least 'experimental' of the "solo" records, it was the biggest surprise.  You knew that Joe was gonna drone your ass and that Buzzo was gonna be obnoxious and probably pretend he was in the Cars at some point. Dale? That was the mystery disc...
Turned out he was a secret grunge idol.

Dale Crover is a heavy yet sludgy yet poppy yet melancholic yet amusing set of songs.  Opening with "Hex Me", nothing much but some straight up old school grunge punk Iommi bends in noise rock context - which leads into "Dead Wipe" which introduces us to Dale's fragile, untrained - but good - lead vocals which match his fragile lyrics - also pretty good as far as grunge goes! 

In 1992 the Melvins' fascination / adoration / denigration of the mighty KISS rock and roll universe compelled them to excrete out three solo masterworks inspired by the KISS solo LPs. The first in the series is King Buzzo, from the Melvins' giggling guitar grumpus. Four songs of atmospheric clanging and rockin' banging. Also features the many talents, drumming and otherwise, of a famous Grunge™ superstar, whose name sort of rhymes with New Wave Asshole. The second in the series is Dale Crover, from the Melvins' sleepy drum caveman. Four songs of gloomy heaviness, with Dale doin' the drummin', singin', guitarin', and dancin'. The third in the series is Joe Preston, from the Melvins' electronic beard warlord. Three songs of fuzz bass computer drone temper tantrum. All three 12-inches reissued on vinyl after 100,000 years out of print.


---
Share this Product
---
More from this collection