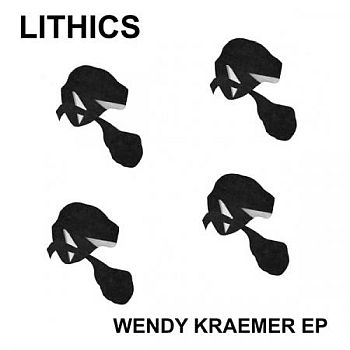 Moone
LITHICS - Wendy Kraemer 12"
Highly recommended.

LITHICS is a four piece punk band from Portland, Oregon. Since their inception in 2014 they have crafted concise and sharp recordings for labels like Water Wing, Kill Rock Stars, and Thrilling Living. While avoiding the trappings of historical reenactment, Lithics remain solidly informed by the sounds and conceptual underpinnings of late '70s post punk, as well as the obscure logic of proto art rockers Red Crayola and Captain Beefheart.

The songs are composed of tightly wound bass lines perfectly in sync with unwavering / uncluttered drums, piercing duel guitar riffs, and singer ABUREY HORNOR's calm and disaffected vocal delivery.

The Wendy Kraemer EP was never supposed to be more than a homemade tape that accompanied them on their 2017 tour. The EP is comprised of audio collage, practice demos and improvisations that eventually took full form for their Sophmore album, Mating Surfaces. However, these recordings have a life of their own. Raw overblown sound quality and stripped back takes on the songs offer a deconstructed immediacy impossible to conjure in the formal confines of a recording studio. Process itself becomes object; all the rough edges are left in. It's an audio archive of intimate song construction and discovery.


---
Share this Product
---
More from this collection