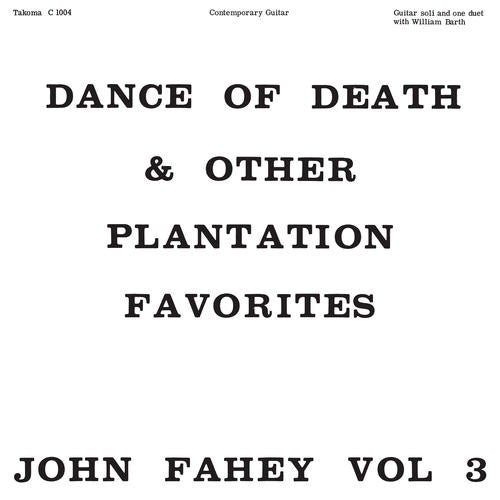 4 Men With Beards
JOHN FAHEY - Volume 3: Dance of Death & Other Plantation Favorites LP
Limited edition of 500 copies.
180 gram green vinyl.

"John Fahey was one of the most enigmatic figures of 20th century popular music. He wrote a thesis on Charley Patton when nobody knew who he was, he set up two incredible record labels with valuable legacies (Takoma and Reverant) and influenced an entire subculture of guitar players/composers. He was at once a folkie, a hippie, a Delta blues man, a raga-infused guitar god, a Dvorak and Ives-drawing demon, a twisted drunk, a romantic, a dry-boned comedian, a noisemaker and a provoker, among other things. Throughout his rich discography, you can hear all these qualities come through. I feel genuine envy for those coming to this man's work for the first time. Prepare to be hypnotised." - Axel Carrington

Yet another plum-amazing Fahey album.
The pieces here succeed excellently at crafting atmosphere, this album ranks among his darkest; there are some shocking and sickly excursions into dissonance on tracks like "Wine and Roses" and "What the Sun Said", whilst other tracks employ bare, spidery slide-guitar.
Speaking of the title, the titular track is probably the standout here; just in the way it softly swells, almost pastorally, but with little macabre twists and turns and livelier passages. Brilliant.
---
Share this Product
---
More from this collection