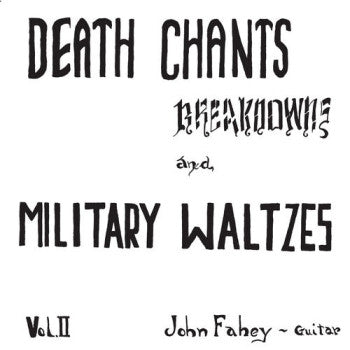 4 Men With Beards
JOHN FAHEY - Volume 2: Death Chants Breakdowns and Military Waltzes LP
Limited edition of 500 copies.
180 gram blue vinyl.

"John Fahey was one of the most enigmatic figures of 20th century popular music. He wrote a thesis on Charley Patton when nobody knew who he was, he set up two incredible record labels with valuable legacies (Takoma and Reverant) and influenced an entire subculture of guitar players/composers. He was at once a folkie, a hippie, a Delta blues man, a raga-infused guitar god, a Dvorak and Ives-drawing demon, a twisted drunk, a romantic, a dry-boned comedian, a noisemaker and a provoker, among other things. Throughout his rich discography, you can hear all these qualities come through. I feel genuine envy for those coming to this man's work for the first time. Prepare to be hypnotised." - Axel Carrington

The first album was more straight ahead blues/folk with some classical influence. Here, Fahey comes even more into his own. He expands blues ("Stomping Tonight") and trad. folk songs ("John Henry") into the stratosphere.  Then there's the striking dissonant strummed (instead of picked) "Downfall of the Aldelphi" that sounds like the soundtrack to a long lost 16mm documentary about violent pioneer conflicts.  Then there's the infinitely sad old timey ragtime cover "Take a Look at that Baby". He experiments with copy/paste editing and weird tape effects on the epic "America" and "When the Springtime".  There are several great slide guitar pieces here as well.
---
Share this Product
---
More from this collection