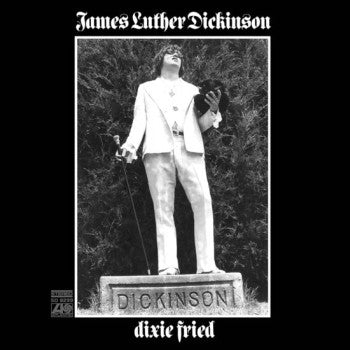 Future Days
JAMES LUTHER DICKINSON - Dixie Fried 2LP
Limited to 1000 copies. Expanded 2LP featuring 7 unreleased tracks.
Liner notes by Alec Palao, plus excerpts from unpublished memoirs and rare ephemera.
Highly recommended. 
Best known as a producer (Big Star, Replacements, Toots Hibbert, Bob Dylan, and recently, John Hiatt), Dickinson really assembled an excellent collection of songs - rock, country, blues, old-timey. Bizarre, and wonderful. Great performances. This is an excellent album if you are a fan of any of the artists mentioned above.
The late Jim Dickinson is one of the most eclectic personages rock n'roll has ever thrown up: a musical maverick. From Sun Records and Ardent Studios in the 1960s, to sessions with the Rolling Stones, Ry Cooder and Bob Dylan, significant productions of Big Star and the Replacements, and the twisted roots rock of his own Mud Boy & The Neutrons, the man was never, ever predictable.
A solo album had not been at the forefront of Jim Dickinson's mind then, but once the idea was put in place by Jerry Wexler at Atlantic, he reacted conceptually, and with gusto. Dickinson always shot from the hip. He could be coarse on a rocker like "Wine," or dignified and joyous when celebrating "The Strength of Love." Inebriated laments like "Wild Bill Jones" contrast sharply with the carny talk of "O How She Dances," and a shifting, indignant anti-war recitation entitled "John Brown."
As a music maker who could relate equally to both the intellectual and the visceral aspects of popular culture, anything Dickinson lent his hand to was at least interesting and frequently rewarding. Such is the case with
Dixie Fried
, his solo debut from 1972. Unsuccessful upon release, the record now is now a cult item that, for many, mirrors the deliciously unexpected twists and turns of Dickinson's subsequent career.
---
Share this Product
---
More from this collection