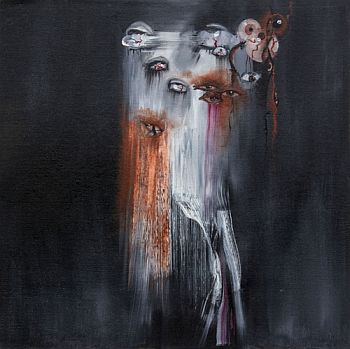 Profound Lore
INSECT ARK - The Vanishing LP
Evoking visions of dripping and lurching horror films, outer space travel, and gritty noir textures, NYC-based instrumental band Insect Ark is led by founder Dana Schechter. Using delay-drenched lap steel, distorted bass and synths, and acoustic and electronic drums, the band's music creates a sonic mural both uncomfortably intimate and icy cold. 

The follow-up to 2018's Marrow Hymns, The Vanishing sees Schechter team up with drummer Andy Patterson (Subrosa), resulting in their most expansive, immersive, and intricately crafted album to date. Recorded and mixed by Colin Marston (Krallice, Dysrhythmia), the album flourishes through a sound canvas so immense and enveloping, cinematic and grandiose yet hypnotic, trance-inducing, and alluring, all at the same time. 

Bridging the gap between experimentation and song form, a heavy focus is on composition, but Insect Ark is not content to stay in the studio. It is very much a live experience, with emphasis on the live instrumentation of bass, lap steel, drums, and synths using intricate live analog looping techniques to achieve a monster "wall of sound" with only one or two people on stage, accompanied by mind-bending animated visuals—also made by Schechter, who works as a video artist in the film business—completes the live experience to envelop and crush the senses.

Schechter has worked as a collaborator for studio / stage with Swans, Angels Of Light, Zeal & Ardor, Arabrot, Wrekmeister Harmonies, Gnaw, Bee and Flower, and Gifthorse. Starting in the spring of 2020, she will be joining Swans as a primary touring member of the band.


---
Share this Product
---
More from this collection