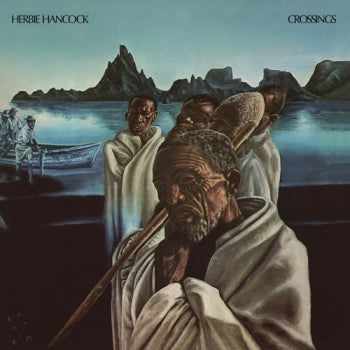 Antarctica Starts Here
HERBIE HANCOCK - Crossings LP
Crossings was the second release by the Herbie Hancock Sextet lineup known as the Mwandishi Band, following 1971's Mwandishi which stretched Hancock's already-adventurous writing and expanded the music through post-production. This approach would play an even larger role on Crossings, the pianist's final album for Warner Bros.

For two of Crossings' three pieces ("Quasar" and "Water Torture"), Hancock took basic instrumental tracks to Patrick Gleeson's Different Fur Studios, hoping to learn how to play the Moog synthesizer. Instead, Hancock let Gleeson contribute layers of sound to both pieces. On "Quasar," a ballad in 7/4 time, Gleeson extends the horn playing of Bennie Maupin, Julian Priester and Eddie Henderson through electronic accents, while on "Water Torture," he provides a ghostly counter melody on the Mellotron, a keyboard that utilizes samples from string instruments.

These studio enhancements give Crossings an otherworldly dimension, making the album feel bigger and more fantastical, yet the Sextet's playing—recorded without much in way of edits or overdubs —keeps everything grounded. Indeed, Gleason's additions are often so natural that it is hard to pick out what's acoustic and what's synthesized.

While the Mwandishi Band's tenure was unfortunately short-lived, the advances Herbie Hancock made with them still sound exciting today and would propel him into further inventive territory with future jazz-funk project The Headhunters.


---
Share this Product
---
More from this collection