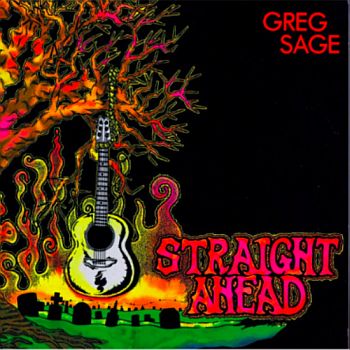 Jackpot
GREG SAGE (THE WIPERS) - Straight Ahead LP
Remastered by Greg Sage.
Liner notes from The Big Takeover's Jack Rabid. 
Highly recommended.
"I didn't think too much about acoustic guitar before, but Greg Sage somehow made it ok. If all these great songs were gonna come out of it, maybe it's not so bad. Straight Ahead sold me on the concept of acoustic guitar. Now it was something I had to deal with." – J. Mascis
This quote from Dinosaur Jr. guitar hero, J. Mascis sums up the impact Straight Ahead had upon it's initial 1985 release – and continues to have on subsequent generations. Few, if any punk musicians had dared step so far out of their safety zone as Sage did here, re-defining the definition of what "punk" could be.
Arriving two years after the release of Wipers' seminal Over The Edge LP, Straight Ahead was Sage's first proper release of new material since signing to a major label (Enigma-offshoot, Restless Records) – a statement itself in an era where "selling-out" was a looming concern in the DIY community. Despite this, Sage's first solo album remains even more insulated from the outside world than the Wipers – a quality exacerbated by the stripped-down instrumentation and themes of alienation. Today, some might call it "death folk" but in 1985 there were few precedents for the spectral, echo-laden folk-punk of Straight Ahead.
While the first half of the record bears some of the familiar urgency and hooks of the Wipers' trademark sound (On The Run, Straight Ahead), Side 2 is given over entirely to slower, longer, hollowed-out songs and arrangements, and signaled Sage's increasing devotion to studio craftsmanship over performing live. While the album was misunderstood by some who weren't looking for a mellow "singer-songwriter" effort from the Wipers frontman, it's stature has grown exponentially over time, with everyone from J. Mascis to Ryan Adams paying tribute with cover versions, and a younger generation rightly referencing the album for the groundbreaking work it remains. Indeed, you can't look back – you just look straight. Straight Ahead.
---
Share this Product
---
More from this collection