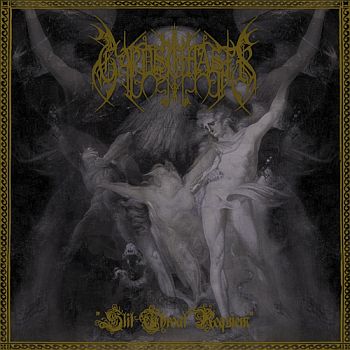 Profound Lore
GARDSGHASTR - Slit Throat Requiem 2LP
Includes d/l code. 
Gatefold sleeve with lyrics. 

Gardsghastr, a new black metal entity created by forces comprised of prolific members culled from elite black metal artists Bekëth Nexëhmü and Chaos Moon, have unleashed their debut album Slit Throat Requiem, an epic, bewitching, overwhelming, symphonic black metal maelstrom that harkens back to the glory of the unparalleled Norwegian black metal scene of the '90s.

Manifesting in a grandiloquent yet strident and powerful sound, with a production that mirrors the textures that were once produced from the confines of Greighallen Studios back in the ancient times, this relentless bombardment invokes an overbearing wall-of-sound replete with a dark, ominous, unmerciful atmosphere. Heavily orchestral on all fronts, from the ambient sound-generating guitar assault, the pounding battery, glorious sounding keyboards, and the piercing vocal incantations spewed forth, Slit Throat Requiem emerges as a black metal attestation to the genre's true spirit and manifesting flame.


---
Share this Product
---
More from this collection