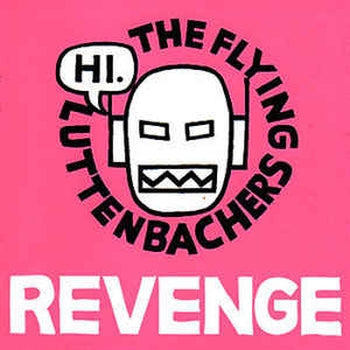 Skin Graft
FLYING LUTTENBACHERS - Revenge LP
The Flying Luttenbachers originally existed between 1991 and 2007, running a renegade stylistic gamut from hardcore Free Jazz improvisation to rigorous modernist composition, under the dictatorship of composer and instrumentalist Weasel Walter. Alumni of the group include experimental rock heavies Ed Rodriguez (Deerhoof / Colossamite / Gorge Trio), Mick Barr (Krallice), Jonathan Hischke (Hella / Holy Smokes) and Alex Perkolup (Lovely Little Girls / Cheer-Accident). Early incarnations of the Flying Luttenbachers featured noted improvisers Fred Lonberg Holm, Jeb Bishop, Hal Russell, and Ken Vandermark.

In 1995 Walter enlisted an entirely new line-up for The Flying Luttenbachers SKiN GRAFT Records' debut. Imagine Derek Bailey, Immortal, No New York and Fushitsusha all rolled up into one.

Now regarded as a milestone in extreme outsider music, with the release of 1996's "Revenge of The Flying Luttenbachers", Weasel submitted his own Anti-Life Equation: FREE JAZZ = DEATH METAL.


---
Share this Product
---
More from this collection