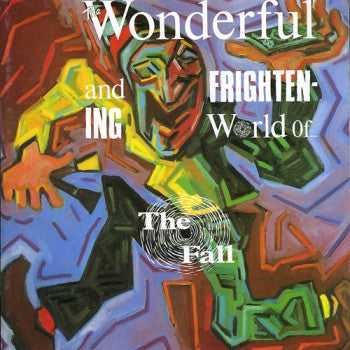 Beggars Banquet
FALL, THE - The Wonderful and Frightening World of... 2LP
Double vinyl bundle includes original LP plus 'The Wonderful And Frightening Escape Route To The Fall' LP.

It's an anomaly of a Fall album - it's the only one that has a "down the rabbit hole" trippiness to it. I'm only talking about the LP's original nine tracks, each coming off as if William S. Burroughs were a British proletariat art punk, writing a novel at the peak of his habit. A stream-of-consciousness party dirge with echoes of Damo Suzuki, Captain Beefheart, Colin Newman, H.P. Lovecraft and Walt Disney. A dense, rich, multi-layered, moody, dark skiffle psychedelic post-punk.

"Where's the lay of the land, my son? What's the lie of the land, my son". The Wonderful and Frightening World of The Fall is the world of aggression. It's a day of the beast in Armageddon. Or is it Bug Day in the human menagerie? "Bug day - midges hovered over the heather, three moths shivered, green moths shivered, cockroaches moldered in the ground, tonguehorns belched fire". This set is one of the more powerful albums by The Fall - wonderful and frightening, miraculous and scary. "The day the dream went right back to base there was blood on the ground, blood on the sand, blood all around. Tracks of the ride of the bright murder hawk, the day the dream debased and went home and the people did mill to those adrenaline rails and everything stopped".


---
Share this Product
---
More from this collection