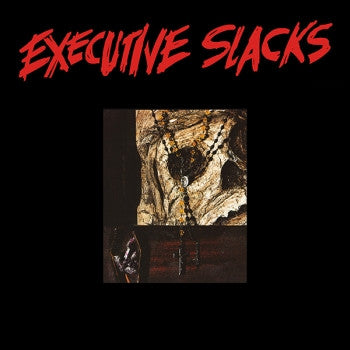 Dark Entries
EXECUTIVE SLACKS - s/t 12"
Highly recommended by Strangeworld.

Executive Slacks was spawned in Philadelphia by three restless art students – Matt Marello, John Young and Albert Ganss in the early 1980s. Starting out with performance art in subways, they soon took their angst-ridden act to galleries and night clubs. They recorded four songs in the fall of 1982 that became their self-titled EP released by local independent label Red Records in 1983.

On their debut EP Matt Marello roars and churns out white-hot shards of guitar while John Young's short-circuited noise machines and Albert Ganss's industrial metal drums create dramatic body rhythms. The Slacks drew their influences from contemporaries like Cabaret Voltaire and Tuxedomoon, as well as Disco and Dadaism. The tracks were created with the use of heavily modified synthesizers and noisemakers, industrial steel drums, metal rods and plates. Dripping in nihilism, the song's lyrics tackle the existential dread of the late 20th century. Executive Slacks' unique brew of primitive electronics, harsh guitars and aggressive vocals inspired many bands like Ministry, Front 242 and Skinny Puppy.

All songs are remastered for vinyl by George Horn at Fantasy Studios in Berkeley. Housed in the original jacket featuring a painting by Albert Ganss. Each copy includes an 8-page booklet on industrial gray and blood red paper with lyrics, photos and press clippings from the band's archives. As James Murphy of LCD Soundsystem said of "The Bus", "I always wanted to make a song that sounded like that".


---
Share this Product
---
More from this collection