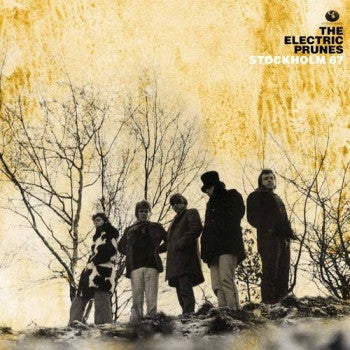 Sutro Park
ELECTRIC PRUNES - Stockholm 67 LP
180 gram vinyl.
Highly recommended.

Stockholm 67 is a recording of the Electric Performance at the Concert Hall in Stockholm, Sweden on December 14, 1967. As it was recorded by the Swedish Broadcasting Corporation for a radio broadcast the quality is topnotch.

Coming across live recordings of mid-60's American garage bands isn't an everyday occurrence, however; when one of these "nuggets" comes to light it's rarely anything less than awesome. This is definitely the case with Stockholm 67. As wonderful as their first two studio albums are, the sonic power of The Electric Prunes was sacrificed in order to create a maze of psychedelic soundscapes. But The Electric Prunes live sound was more in the vein of what the MC5 would later become legendary for (sans the Coltrane inspired chaos and a tad more subdued). For a band that was being used as "puppets" they knew a thing or two about rockin' the strings. It's all here.

In the winter of 1967, a psychedelic-garage-punk band from Woodland Hills, California, arrived in Europe for what would be their first and last tour of the continent. On the strength of their hit single "I Had Too Much To Dream Last Night," the band was welcomed with open arms by European rock fans as well as British rock royalty - they smoked out with Hendrix, partied with Brian Jones and Keith Moon, and hung out in the studio with the Beatles - but were also subjected to harassment and ridicule over the fact that their homeland was at war in Vietnam. On the last stop of the tour someone pushed the record button and this artifact is the result. Stockholm '67 finds the ELECTRIC PRUNES at the height of the powers. Over-amplified and fuzzed to the max, the 'Prunes here are explosive, noisy and wild. This recording proves that the Electric Prunes deserve to be ranked alongside the very best bands of their era.
---
Share this Product
---
More from this collection