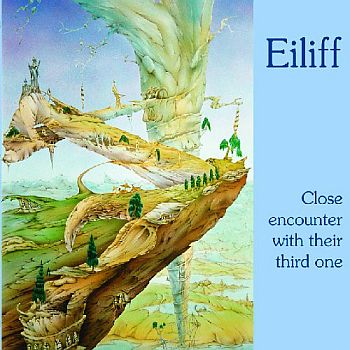 Garden Of Delights
EILIFF – Close Encounter With Their Third One LP
Includes 20-pg deluxe booklet.

Formed in the late 60's by Rainer Brüninghaus, Houschäng Nejadepour, Detlev Landmann, Herbert J. Kalveram and Bill Brown, EILIFF were a German instrumental band who turned fusion on its head with a pair of studio albums featuring classy Canterbury-style jamming with bass, guitar and keyboards plus some ethnic instruments thrown in (mostly the sitar). Two live albums were also released, one of which only came out 30 years later. Being somewhat out of step with the then dominant Kosmiche tradition, the band never really made a name for themselves despite displaying some phenomenal musicianship. References include SOFT MACHINE, early KING CRIMSON, COLOSSEUM, NUCLEUS, VDGG as well as Miles Davis and Frank Zappa.

Their eponymous album (71) features some killer keyboards (electric piano), wild guitar and sax interplay with very complex grooves and extended jams. The similar but more psychedelic album "Girlrls" (72) is even more improvisational and jammy, with frequent nods to KING CRIMSON and DEEP PURPLE. On both live albums, the "Bremen 1972 Live" and "Close Encounters With Their Third One" (recorded in 71-72 but only released in 2002), the band moves effortlessly from energetic, fast-paced riffs to more spacey free-form passages with equal skill. The sound quality is surprisingly good on both.


---
Share this Product
---
More from this collection