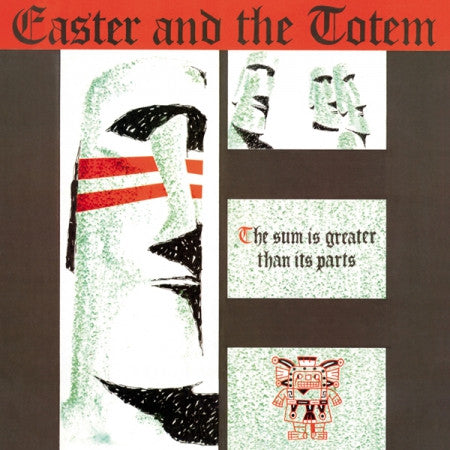 S-S
EASTER AND THE TOTEM - The Sum Is Greater Than Its Parts LP
Highly recommended.

Tromping around South London through most of the 1980s, Easter and the Totem released three LPs (the first one at the urging of John Peel); The Sum Is Greater Than Its Parts is their second. Recorded between 1982 and 1985 - with a year and a half break scissored in - it takes the band's original post-punk influences and surges into angry, pop-enhanced, DIY-stamped rock 'n' roll: a sound similar to, yet less polished than, contemporaries The Smiths and Echo & the Bunnymen.

Propelled by drummer Steve Mountain and Barry's acidic lyrics, The Sum Is Greater Than Its Parts perfectly captures working class rock 'n' roll discontent with Margaret Thatcher and the 1980s UK. That the band never signed up to a major and chased "success" wasn't due to their lack of great tunes, but their preference for playing benefits for the Bromley Unemployed Group and the South London Musicians Collective over yucking it up with the suits. Good thing for our ears: Easter and the Totem's non-careerist approach to rock and pop, not bogged down by the studio fads and major label production that killed some of their peers, ages extremely well.

The Sum Is Greater Than Its Parts was originally released in 1985 on Barry's Ideological Sounds label in a tiny pressing. While it never got mass distribution, a few copies snuck out. Those at S-S Records HQ stumbled on a copy in the early '90s in the back room of a record store (score!) and spun it so many times, they finally put it on their "to reissue" list. After many years of trying, they got permission and here ya go: The first appearance of this great record on vinyl in 30 years.
---
Share this Product
---
More from this collection