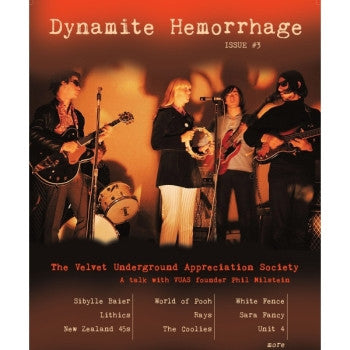 Dynamite Hemorrhage
DYNAMITE HEMORRHAGE magazine - issue #3
Dynamite Hemorrhage #3 is an 84-page music fanzine dedicated to raw and sub-underground rock'n'roll.
FEATURING:
– The definitive story of THE VELVET UNDERGROUND APPRECIATION SOCIETY, as told through an interview with VUAS founder Phil Milstein. Find out what it was like to lead the secret society of Velvets fiends in the 1970s and how Milstein managed VUAS with the fans and with the Velvet Underground members themselves.
– An epic, Homeric oral history of wiry & jagged 1980s San Francisco pop band WORLD OF POOH, as told by band members Barbara Manning, Brandan Kearney and Jay Paget themselves, as well as choice anecdotes from those who witnessed their rise, reign and collapse
– In-depth interviews with four of the finest acts making rock and roll music in the year 2016: WHITE FENCE (Tim Presley); Portland, OR's LITHICS; Oakland's RAYS and Auckland's THE COOLIES
– An interview with phenomenal lost folk singer SIBYLLE BAIER, whose early 1970s recordings from Germany appeared a decade ago and stunned the world. We found her & gave her the Dynamite Hemorrhage once-over, and then went and interviewed & celebrated five of her ghostly folk "heirs" (MAXINE FUNKE, JULIE BYRNE, ALLYSEN CALLERY, JOANNE ROBERTSON and MYRIAM GENDRON) as well as part of the piece
– "BELOW THE FLYING NUN", Gregor Kessler's piece on some of the wildest and most obscure New Zealand 45s of the 1980s
– An interview with SARA FANCY, aka "Sara" from early 80s UK DIY acts Sara Goes Pop and Amos & Sara. You'll learn about her journey from the squats of Europe to the bodybuilding competitions of the 90s to the tranquil equine therapy practice she leads today. A fascinating glimpse and first look back she's given on her time spent making music with Jim Welton (aka L Voag, Amos etc.)
– The first-ever posthumous interview with early 80s all-female Belgian punk band UNIT 4, who surfaced on the "FM-BX Society Tape" in 1981 with four amazing songs of shimmering Kleenex/Delta 5/Au Pairs-ish brilliance.
– David Perron's "FREE FORM FREAKOUT" column of outside and experimental tape & LP releases from the last year
– Jay Hinman and Erika Elizabeth also wrote 82 record reviews devoted to the nether regions of sub-underground rocknroll and elsewhere
---
Share this Product
---
More from this collection