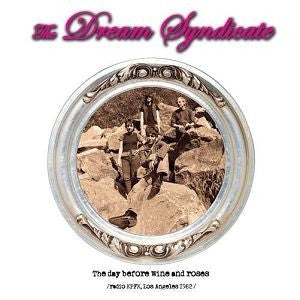 Bang!
DREAM SYNDICATE - Day Before Wine And Roses LP
Limited to 500 copies only. Double LP with gatefold sleeve.

Finally released on vinyl, here's the recording The Dream Syndicate did at a radio session in Los Angeles in 1982, right before getting in the studio to record their legendary debut album 'The Days Of Wine And Roses'. And what you get is The Dream Syndicate at their purest essence!

This is one of those mythic live shows, the kind that are spoken of in hushed tones as the moment a band stopped being a mere band and passed into musical history, and this one took place before The Dream Syndicate's first album was released. Everyone in the scene was in the audience that night - REM, Green on Red, Rain Parade, even The Bangles. Dream Syndicate had only been together for months at this point and had amassed a serious cult reputation as musician's musicians. This set was recorded just days before they headed into the studio to record The Days of Wine and Roses. The versions here of the songs are genius - "When You Smile" was never improved upon, "Some Kinda Itch", "Sure Thing", and "That's What You Always Say" are all frenzied and ecstatic. The Dream Syndicate has a reputation as a killer live band, and it is well displayed here - Karl Precoda's guitar is a force of nature, passing in and out of furious walls of noise that pass over to Steve Wynn or Kendra Smith or altogether drown them out. On "When You Smile", Wynn's talk-singing is often buried under Precoda's atonal wail and by the second verse, Wynn is shouting and howling to be heard. "John Coltrane Stereo Blues" appears here in a skeletal early form as "Open Hour" (the third time they'd played it). The covers here are amazing too - a superpowered run through of Buffalo Springfield's "Mr. Soul" sets the stage, later a very ragged take on Dylan's "Outlaw Blues" and best of all after "Open Hour" and "When You Smile", the loudest, most insane version of Donovan's "Season of the Witch" ever. The set closes with 'the title track to our imaginary upcoming album', "The Days of Wine and Roses", as fiery and brilliant as it ever was.
---
Share this Product
---
More from this collection