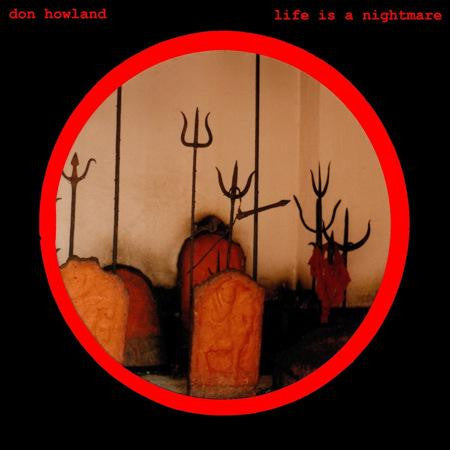 12XU
DON HOWLAND - Life Is A Nightmare LP
Includes download code.
Highly recommended.

Over the past 3 decades, DON HOWLAND's been a crucial figure whichever crossroads where Depression-era country blues and '76 punk intersect (occasionally obeying the rules of the road but often resulting in a musical wrecks the likes of which few witnesses can unsee/unhear). We could spend the next several hours cataloging the highlights of Howland's respective tenures in the GIBSON BROTHERS, EGO SUMMIT, WOODEN TIT, BASSHOLES and BURNING BUS, but what would that really prove besides embarrassing lesser artists?

Instead, let's concentrate on a more contemporary work, and Don's first solo album since 2002's The Land Beyond The Mountains (Birdman/Secret Keeper). Recorded off and on between 2011 and 2015, Life Is A Nightmare is not simply yet another raw, misanthropic record by a not-entirely-happy elder statesperson revered in collector scum circles. It isn't even the easy answer for a community radio programmer trying to ID the meat in a Skip James/Shadow Ring sandwich (though that's certainly a target audience, if not for Don, certainly for the label). Rather, this album—as relentless, dark, and personal as any you'll play this decade —makes a compelling case for Howland as one of the American underground's true originals, regardless of genre. You could've said that about The Land Beyond The Mountains, too, but unless you run a prominent reissue label that leapfrogs us in the pressing queue, let's fixate on one great album at a time, ok?

Future shows by Howland—either under his name or opting for the booking bonanza that would surely be a Bassholes tour—are said to be under consideration, and that's my polite way of saying please hassle Don into considering. The gory, real life details aren't mine to share, but suffice to say no adult of Howland's vintage ought to get out of bed for a mere paragraph in The Wire. Three or four paragraphs, sure, that can probably be arranged. But so much of this is up to you. When the dust clears and all that's left are clown-car-commuters parading mannerisms in lieu of songs, contrived stances in lieu of any fucking heart and soul, do you really wanna admit you slept on an artist this fearless & unpredictable for what, most of your life?


---
Share this Product
---
More from this collection