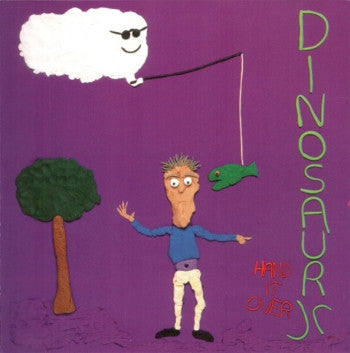 Cherry Red
DINOSAUR JR. - Hand It Over (Expanded Edition) 2LP (colour vinyl)
Expanded edition on purple vinyl.
Includes the 'Take A Run At The Sun' EP plus never-before-released live recordings. 
Liner notes by Mojo magazine Keith Cameron. 

The album was accompanied, unusually, by an EP of non-album songs recorded for the Matt Dillon movie 'Grace Of My Heart' and, later, a vinyl only 'I'm Insane' 7", all of which are collected here alongside previously unreleased recordings made on stage in Stockholm and on TV in Australia. Presented here on purple vinyl, and accompanied by in-depth sleevenotes from Mojo's Keith Cameron (based on recent and exclusive interviews with J Mascis), this edition provides a final view of a band about to disappear from the limelight but still as engaging and powerful as ever.

The basic formula remains intact from previous outings. The sound of failed romance conveyed through deafening guitar solos, self-pitying tales and heavily stoned remorse.

Even though Mascis turns up with all the usual negative sentiment and casual ennui (the titles are reassuringly familiar: 'Nothin's Goin' On', 'I Don't Think', 'Never Bought It'), he then proceeds to obliterate them under a barrage of gargantuan guitar noise. All the tracks, then, are roughly the same: some minor personal distress, a split-second of silence and then several minutes of jet-powered distortion which is substantially louder than the rest of the song.

From hilarious lyrics through to the sustained chaos of guitar histrionics, this is a return to the original Dinosaur blueprint. Hand It Over showed that after a period of bleary-eyed indulgence he was still capable of creating relentlessly innovative and catchy noise records.
---
Share this Product
---
More from this collection