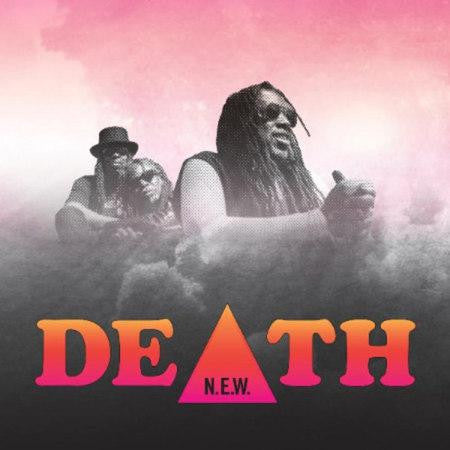 Tryangle
DEATH - N.E.W. LP
Since the discovery of DEATH in 2008 and the release of the archival LP ...For The Whole World To See, the story has been often told. Three African-American brothers, DAVID, DANNIS and BOBBY HACKNEY, tapped into the surging energy of their hometown rock-and-roll scene (mid-70s Detroit) to produce a style and a set of songs that, while completely unappreciated in their day, proved later to be a powerful missing link in the evolution of punk rock. All this was predicted by their leader, older brother David, on his deathbed, ten years before their rediscovery. His stubborn insistence on keeping the name Death instead of signing a record contract under a more palatable name is, in itself, a defining act of true rebellion. The power, precision and passion of the music says everything else that need be said. It has been an EPIC time since 2008: Death began playing live again to large and grateful audiences, meanwhile issuing two additional archival records, Spiritual-Mental-Physical, and Death III. The release of the documentary A Band Called Death took the band farther into the public consciousness than it appeared even the music could, and Death followed the paths to more and more listeners, eventually bringing their explosive show all around the world. During this time, the question always asked was, Will there be a new record? Now, there literally is, and Death and Drag City are proud to bring it to you, entitled simply N.E.W.
Inspired by the positivity brought to them by ever-increasing numbers of new fans, the current performing Death (Bobby Hackney, Dannis Hackney, and Bobbie Duncan) completed several songs started back in the late 1970s by Bobby and David, as well as composing entirely new songs that continue the timeless vibe, feel and resolve of Death with remarkable drive and vigor. For many years after disbanding the original Death, Bobby and Dannis played different styles of music, but with the same deep spiritual investment. Bringing that spirit back to Death, their ability to make new songs in the same vein is fantastic.
N.E.W. surveys the whole Death story, making a statement that screams to the soul, even when reviewing the tracklisting. That statement says: If you want RELIEF, LOOK AT YOUR LIFE, it's the STORY OF THE WORLD in THE TIMES that we are living in, things moving so fast. It's PLAYTIME, but remember we are AT THE STATION where we must ask ourselves WHO AM I? Well, YOU ARE WHAT YOU THINK, preparing for a RESURRECTION, which will bring about CHANGE.
---
Share this Product
---
More from this collection