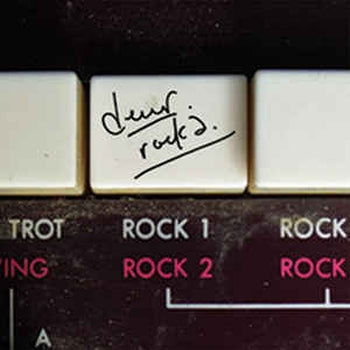 Schnitzel
DEAN WEEN GROUP - Rock 2 LP
180 gram red vinyl.

Dean Ween - aka The Deaner - recorded the rock2 album at his dedicated studio facility in Lambertville, NJ, across the river from his native New Hope, PA.

Here's how the Deaner describes the genesis of this new body of work: "These were written for this sole purpose and recorded with the entire lineup: the best band in the world, Ween -- Claude Coleman Jr., Dave Dreiwitz, and Glenn McClelland, also the other best band in the world, the lineup of the DWG -- Mike Dillon, Bill Fowler, Ray Kubian, Scott Rednor, and the other 50 members and usual suspects.

"I'm pretty proud of rock2; it represents the first time that I was able to take what we do onstage and put it on a record. Now is a strange time to be a musician, live music is really your main outlet for making a living. I never thought at this stage of my career that I would be putting in this much time on the road and in the studio, but I am, and I'm enjoying it more than I ever have. The onlydifference now is that my wife tells people that I "work nights" and even with all of that time I put in recording while she was at work or asleep, it's nothing compared to the amount of time I spend now, and the music is way better for it.


---
Share this Product
---
More from this collection