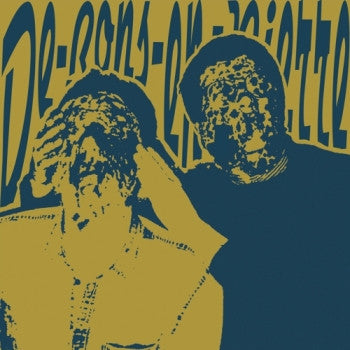 Dark Entries
DE-BONS-EN-PIERRE - Crepes 12"
De-Bons-en-Pierre is a project from Beau Wanzer & Maoupa Mazzocchetti. Beau Wanzer spends the majority of his days sifting through paraffin embedded animal tissues and reading old issues of Fangoria, occasionally breaking his monotonous routine to record in various fits and bursts. As well as solo material, he is also in numerous projects including Streetwalker, Mutant Beat Dance, Civil Duty, and Corporate Park. He's released on many labels including; Diagonal, L.I.E.S, Cititrax, Nation, Rush Hour, and Light Sounds Dark. Maoupa Mazzocchetti is the pseudonym of Florent Mazzocchetti, a French producer based in Brussels. Florent is strictly devoted to a DIY mentality around music production and his sound revives the electro-industrial aesthetic of the late 70s and early 80s. He's released notable productions on labels such as Unknown Precept, PRR! PRR!, Knekelhuis and Mannequin Records.
While Beau was visiting Brussels he stopped by Maoupa's house to jam for a bit. All songs were recorded on April 4, 2016 between 11:00am and 11:00pm, as single live takes."Crepes" is a 6-track EP, titled so because they ate crepes the majority of the session. Beau says, "There was a bit of a language barrier. We'd mostly just laugh and nod when something sounded cool to us." The equipment set up included a Roland TR-808, TR-606, SH-101, CR-78, CR-8000, two Syncussions and effects. Over 23 minutes of garbles, sludgy synths and leviathan rhythms. Surfing the slippery slope between industrial and electro, but never quite falling in, just a dip of your pinky toe to to test the temperature.
All songs are mastered by George Horn at Fantasy Studios in Berkeley. Housed in a sewage green/blue jacket featuring a crepe-masked duo reminiscent of pulpy VHS covers. Designed by Eloise Leigh and Florent Mazzocchetti. Each copy includes a 2-sided postcard with a photo taken during the recording session.
---
Share this Product
---
More from this collection