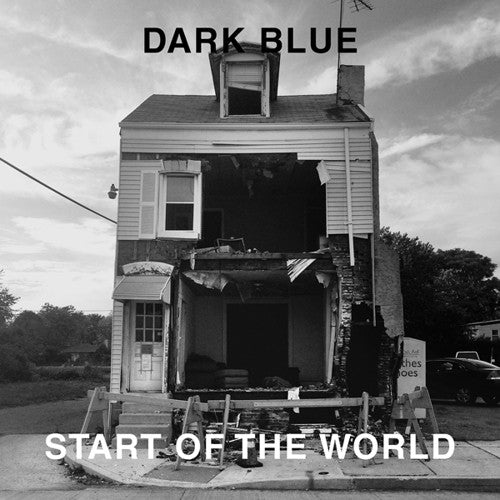 12XU
DARK BLUE - Start Of The World LP
Dark Blue follows up their debut Pure Reality with Start Of The World—a soundtrack of a decaying United States. Each song drips with the reality of atrocities happening all around us. John Sharkey III (vocals, guitar) pushes the band far beyond the post-punk-meets-oi! sound they perfected on their earlier releases, and adds elements of Britpop and shoegaze. Recorded by Jeff Zeigler (Kurt Vile, Nothing), this pop album makes no apologies.

Boot-stomping opener "Union of Buffoons" sets the political tone with an anthem for workers' rights, the biting lyrics referring to human expendability in the face of deregulation and stagnancy of labor rights. "Bombs on the Beach" evokes a playful innocence with '50s doo-wop and surf rock, but the lyrics tear through any cheerfulness and describe the dropping of missiles on a beach of unsuspecting Palestinian children. Other tracks such as "Be Gone Everyone" and "Western Front" highlight the solid rhythm section of Michael Sneeriger (drums, Strand of Oaks) and Andrew Mackie Nelson (bass, Ceremony).

Start Of The World is the kind of record that the band has always promised: a collection of smart, fully realized songs that tell stories. With the world falling apart around us, Dark Blue continues to give a voice to neglected perspectives, many which are unnerving but necessary to hear.
---
Share this Product
---
More from this collection