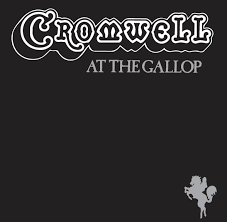 Got Kinda Lost
CROMWELL - At the Gallop LP
Includes download code.

Initially self–released in 1975 by the Drumcondra, Dublin–based Cromwell, At The Gallop is a blistering, heavy, loud'n'lascivious ten track offering (thirteen in this expanded edition) of proto–metal infused street rock'n'roll from a time when Ireland was still under the sway of conservative showbands, quasi–religious, sentimental pop pap and traditional Irish music. 

Despite their cultural struggles, Cromwell crafted a creative and compact catalog–five fuzzed'n'ferocious 45s and this footlong–led by co–vocalist/bassist Michael Kiely's come hither coo and fey Jagger pose'n'preen, the in–the–pocket drumming of Derek Dawson and minor–guitar hero moves of Patrick Brady, exercising taste, talent and towering mountains of fuzz'n'fury as comfortably as greasy '70s raunch and rural modes. At The Gallop is a rare–fetching upwards of 400€ when the original LP does appear–little heard classic in the pub / fried rock'n'roll / proto–punk terrain.


---
Share this Product
---
More from this collection