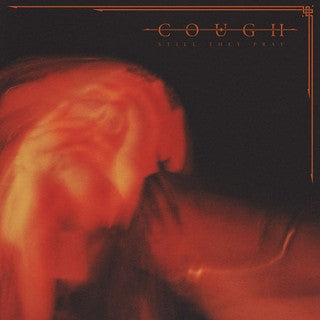 Relapse
COUGH - Still They Pray 2LP
Despite the torpid, brooding doom metal they make, Cough began in something of a hurry. During its first five years, the Richmond quartet issued an auspicious debut EP, a split LP, and two very strong full-lengths, which colored the bleak grays of doom and the lurid greens of stoner metal with rainbow swirls of psychedelic rock. They jumped to Relapse Records, the giant of their field, for 2010's menacing Ritual Abuse and, suddenly, went silent. One reason for the pause is the success of Windhand, Cough's slightly-more-sophisticated and cryptic kin. Cough singer and bassist Parker Chandler handles the low-end rumble of that hard-touring and highly productive unit, limiting his time to return to his older band's harder core. Indeed, a split between the two is all that Cough has released since 2010—at least until now, thanks to the band's first album in six years.  
Never mind the gap, actually: Still They Pray could have arrived anytime during, say, the last three decades and placed Cough alongside the ranks of Candlemass or Cathedral, Sleep or Saint Vitus. It's not looking to dovetail with or participate in any modern scene or moment so much as gather and glorify the tropes of aged genres. They are scary and mean like Eyehategod, hook-driven and magnetic like Electric Wizard. During these seventy minutes, Cough incorporates samples of Lovecraft text, spins into knotty solos, grinds riffs into dust, rages through a splendidly lysergic instrumental, and closes with benighted acoustic blues. When Chandler sings, he seems to inhale and exhale some cocktail of weed and hellfire smoke, as interested in sweet leaf as he is black masses. Still They Pray is a righteous echo of its classic forebears, turned way up and delivered with gospel-like belief.
For their first two albums, Cough handed production duties over to Sanford Parker, the hyper-productive Chicago musician and session overlord who's worked with many of the most vital American metal acts of the last two decades. For their return, though, Cough went with Jus Oborn, the Electric Wizard leader and a bona fide titan in the form. He helmed these sessions alongside Windhand guitarist Garrett Morris.
The move to Osborn opens up the band's sound, revealing layers and depths that Parker often pushed toward the middle. During "Possession," for instance, Oborn meticulously layers the dual guitars of David Cisco and Brandon Marcey, a pair that's perfected its balance of mantra-like repetition and howling solos. And he brilliantly divides the nine-and-a-half-minutes "Let It Bleed" into two distinct phases, so that the first half suggests some salvaged grunge obscurity, with mumbled vocals about nihilism and low-key, highly muffled guitars. But after an instrumental interlude, Cough charges back twice as loud, the guitars and Chandler now screaming in delirious, demented tandem. It ties together two ends of Cough's inspirations and ideas.
For the eight minutes of mid-album highlight "Masters of Torture," Cough pivots between low-tempo, high-distortion terror, rippling blues solos, and mutated-and-drugged thrash. It's a clear composite of antecedents, a distillation of heroes that's obvious but no less compelling for being so blatant. Cough slows down one last time in the final minute, and Chandler—voice warped by a web of effects, as if singing from inside a tomb—begins to chant a koan: "Live to hate/Hate to live," he yells, repeating it until the riff dissolves into feedback. This grim perspective on reality represents a time-honored, timeless thesis for bands like Cough, whose central obsession with demons, death, and the romance of the underworld is, ironically, bound to outlive them.
---
Share this Product
---
More from this collection