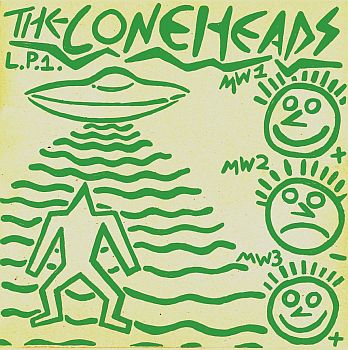 Erste Theke Tontrager
CONEHEADS - LP1: 14 Year Old High School PC-Fascist Hype Lords Rip Off Devo... LP
Highly recommended.

This is the vinyl version of the Coneheads two demo cassettes from 2014; Canadian Cone Cassette and Total Conetrol.  The full title is L.P.1. aka  "14 Year Old High School PC-Fascist Hype Lords Rip Off Devo for the Sake of Extorting $$$ from Helpless Impressionable Midwestern Internet Peoplepunks" and that's about the most accurate title they could have come up with.

While it's true that early Devo is the Coneheads guiding light, they're being driven by a resolutely hardcore punk engine.  It's Zolo / New Wave played at hyper BPM's with brief song lengths, a tight as fuck rhythm section and a no wave vs 70's rock lead guitar.

The magic comes in the punk primitive production, adding a measure of hardcore grit to what might otherwise be less interesting.

This shit is addictive.  The nerdy punk jams will just ping around your head well after the album ends, making you want to listen to it over and over.  A few covers - The Residents "Lizard Lady", Night Fever's "Waste 'o' Space" and a better version of Talking Heads "Psycho Killer" you won't find.


---
Share this Product
---
More from this collection